Introduction to Veeva CRM 18R3
Many new features can be enabled with Veeva CRM 18R3. This document provides a brief explanation of each new feature and updates to existing features.
Veeva CRM 18R3 brings major improvements across the full suite of applications, providing enhancements to optimize user experience and maximize productivity.
Summary
Detailed instructions for settings required to fully enable these, as well as all the new features in Veeva CRM 18R2, can be found by following the links in New in Veeva CRM 18R3 topic.
Augmented Reality - new CLM content type to present AR content within Veeva CRM
CLM Labels - allows users to organize CLM content with their own keywords so they can find their content quicker
New iPhone Capabilities - Unique Activities Calls, Surveys, and more are now available on the iPhone
KAM Action Items - a more flexible alternative to Call Objectives and Tasks as the most granular level of planning in your Account Plans
Approved Email Content Search Improvements - provides a more robust searching capability by indicating whether the search terms should be treated as an AND or OR
User Visible and Behavior Changes
Most new features are delivered disabled by default; however users are able to view the following features immediately:
General
Push notifications can be hidden from the notification list by swiping left on the notification and selecting Hide
Call Sampling
Sample lots now sort to display sooner expiring lots first in the list of available lots
Sample lots with a null expiration date display last in the list of available lots on the Browser (Classic) platform when the ENABLE_EXPIRATION_FILTER_vod Veeva Setting is enabled
Events Management
The Meal_Opt_In_vod field on the Event_Attendee_vod object must now be placed on the proper page layout in order to display on the Attendee related list signature page. This change makes the Meal Opt-In display behavior on related list signature pages consistent with the behavior on the self-service signature page.
Email surveys using Approved Email can now select Event Topic templates when the Country_vod field is populated
If an Approved Email Template in Vault has Country and Event Topics populated, but Event Types is blank, the integration only creates topic material records in CRM. Previously, the integration also created Event Rules in this case.
Check box fields that previously displayed as 1/0 or true/false in the attendee selection screen now display as selected or deselected check boxes
My Tasks
When selecting Complete, the Complete Task modal displays with a title. The options are now Go Back and Complete.
Multichannel
Approved Email
Fields on the Manage Email Addresses page now respect page layout permissions
Users can force the search to only return results containing all of the words by selecting the Must Include All Key Terms check box.
For example, Sarah Jones searches for Efficacy Chol. This result returns Efficacy of Cholecap and Efficacy of Raxxipan. Sarah then selects the Must Include All Key Terms checkbox and searches again. This search only returns Efficacy of Cholecap.
CLM
The CLM Media library and slide selector screens now scroll vertically and not horizontally
Search now includes thumbnails and the ability to favorite the presentation from the search results
Media preview now includes a Cancel option
The More Actions button now has a Favorites option for presentations
The Presentation status displays above the presentation thumbnail
Engages
A green border surrounds the app to remind the user they are in an active Engage meeting on the iPad
CRM Engage App (for CRM Online hosts) now utilizes Chrome CefSharp v65.0.1 as the embedded browser and requires a minimum version of .NET 4.5.2
Video feed tile in the CRM Engage App displays at the bottom left of the screen
Surveys
The label of the Search button now displays as Create when creating a survey target from a Call Report on the iPad platform
The input fields for survey questions on the iPad platform now follow the Sunrise UI
If an iPad user scrolls on the Survey Target screen while the keyboard is open, the keyboard automatically closes
User Surveys on the Survey Target home page have a new style that displays the Survey Name more prominently
When selecting a survey template to create a survey target, if the Survey is expiring within the pre-configured Survey Alert Threshold, the text indicating expiration now displays in red
What's New in Veeva CRM 18R3
The following changes are available to all licensed users of a given product. Instructions to configure these options are discussed in each topic and in the Veeva CRM product documentation.
Windows App
The Windows Tablet application now displays Veeva CRM 18R3 next to the icon. This title is being changed as the 18R3 version of the application is the last classic version before the new Sunrise UI release in 19R1. The 19R1 version will have the traditional Veeva CRM title.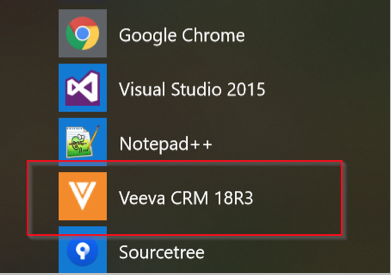 Online Documentation
Note Styles
We updated the note styles in the online documentation to represent the content contained in the notes. There are now three levels of notes:
Note (Blue) - provides additional information

GPS fields must be read-only on all page layouts.

Caution (Yellow) - An adverse effect may occur, for example a misconfiguration

All tokens are case sensitive.

Warning (Red) - A critical error may occur, for example, you may lose data

Do not modify the Company Language of your org.
Feedback
Each topic in the CRM Online Help now displays a Feedback button in the bottom left corner of the page.
Select the Feedback button, enter your email address and feedback, then select Submit. The documentation team receives an email containing the link to the page from which you selected the Feedback button. The email also contains the email address entered for future follow-up.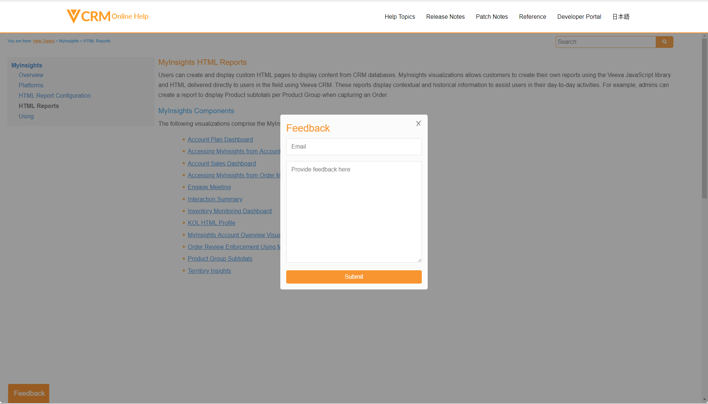 Advanced Searching in the Online Help
The CRM Online Help site now supports advanced search settings to enable users to quickly locate a relevant topic.
Advanced searching consists of two components:
Filtering - Select the Filter icon to limit the list of search results to only display topics belonging to the selected category. Only one filter may be selected at a time.
Exact Search - Select the Exact Search check box to limit the list of search results to only display topics containing the exact term. For example, if the search term is --cat and exact search is enabled, the search results only display topics with words containing exactly --cat. If exact search is not enabled, the search results also include all topics with words that contain cat (category, catalog, etc).
For example, Alice, an administrator at VerteoBiopharma wants to learn more about the --cat section signal. She is unsure which topic to read but knows the section signal is a part of Call Reporting. She enables an exact search for --cat and limits the search results to only display Call Reporting topics. The search returns two results, allowing the administrator to quickly locate the correct topic.
Core CRM
Accounts
Call Reporting
Inventory Monitoring
Medical Events
Medical Inquiries
Order Management
Surveys
Events Management
Multichannel
Approved Email
CLM
Consent Capture
Engage

Engage Webinar Recording

Engage Webinar has been deprecated and is replaced by Virtual Events.
MyInsights
Scheduling and Planning
Parity
Push Notifications
iPad users can now use Push Notifications.
Accounts
Advanced Coaching Reports
iPad users can now comment on Advanced Coaching Reports. See Employee Commenting on Advanced Coaching Reports for more information.
Call Reporting
Call
iPhone Call Reports now support:
Unique Activity calls
Attendee Specific fields
Account Tactic, Product Strategy, Product Tactic on Call Discussion
Medical Discussion
Call Follow-ups
Events Management
Limiting Outside Territory Searches
iPad users can now Limit Outside Territory Searches.
Speaker Contract Generation
Windows Tablet users can now generate contracts for speakers. See Speaker Contract Generation for more information.
Scheduling and Planning
MCCP
MCCP Administrators can now indicate product goals by priority for the same product via one call channel on the iPad platform. See MCCP Goals by Priority in a Single Call Channel for more information.
MyInsights
iPhone now supports MyInsights DeepLinking.
Network
Creating Unverified Records
Windows Tablet users are now able to create unverified records to maintain a clean CRM data set. See Creating Unverified Records for more information.
Surveys
Surveys for iPhone
Surveys are now available on the iPhone platform.
To enable Surveys on iPhone, admins must enable the appropriate Surveys VMOCs. The minimum required VMOCs for Surveys include:
Survey_vod for iPhone
Survey_Target_vod VMOC for iPhone
Survey_Question_vod VMOC for iPhone
Question_Resonse_vod VMOC for iPhone
Admins must ensure they enable the appropriate VMOCs and ensure the Where clauses are updated with any existing Where clauses used for iPad to ensure parity.
See the Surveys documentation for more information.
New in Veeva Engage 18R3
Several new features are included in Veeva Engage 18R3. This topic provides a brief explanation of each new feature and explains updates to existing features.
User Visible Changes
Users can view the following changes for this release without additional configurations:
Engage Web Client attendees can now join the meeting audio using their browser via VoIP
The Engage Web Client application automatically localizes to the appropriate Veeva Supported language based on the language of the user's browser
Annotation is no longer supported for HCPs. The Disable Attendees Annotation button is not active.
The Engage Web Client application now displays a video feed of the active speaker
HCPs video feed does not automatically display when joining a meeting. To share their video, HCPs must select the Start Video button.
VoIP and Two-Way Video in the Web Client
The Engage Web Client now supports two-way video and VoIP. See VoIP and Two-Way Video for more information.
New Objects
The list below contains all new objects added in Veeva CRM Version 18R3.
| Object | Label | Master Object | Description |
| --- | --- | --- | --- |
| Action_Item_vod | Action Item |   | Object used to represent a task that is associated to an account plan through the Account Plan hierarchy. |
| Sent_Message_vod | Sent Message |   | The object contains a record of outbound messages |
New Fields
The list below contains all fields added in Veeva CRM Version 18R3. The fields are organized by object. Visibility to all fields is disabled by default to all users except administrators. See the Veeva Data Model information for a full listing of Veeva objects.
Object

Field Name

Field Label

Field Description

Field
Type

Note

Account_Plan_vod
Progress_vod
Progress
Value calculated from the total and completed number of sub-level tasks
Percent
 
Account_Tactic_vod
Progress_vod
Progress
Value calculated from the total and completed number of sub-level tasks
Percent
 
Account_Tactic_vod
Share_With_vod
Share With
Used to facilitate record sharing among Account Team Members. Team Members whose Role matches any of the selected values will have visibility to the record.
Picklist (Multi-Select)
 

Action_Item_vod

Account_vod

Account

 

Lookup

 

Action_Item_vod
Account_Plan_vod
Account Plan
 
Lookup
 
Action_Item_vod

Account_Tactic_vod

Activity

 

Lookup

 

Action_Item_vod
Assignee_vod
Assignee
User who the Action Item has been assigned to
Lookup
 
Action_Item_vod

Completed_By_vod

Completed By

 

Lookup

 

Action_Item_vod
Completed_Date_vod
Completed Date
 
Date
 
Action_Item_vod

Description_vod

Description

 

Text

 

Action_Item_vod
Due_Date_vod
Due Date
 
Date
 
Action_Item_vod
Share_With_vod
Share With
Used to facilitate record sharing among Account Team Members. Team Members whose Role matches any of the selected values will have visibility to the record.
Picklist
 
Action_Item_vod

Start_Date_vod

Start Date

 

Date

 

Action_Item_vod

Status_vod

Status

 

Picklist

 

Action_Item_vod
Plan_Tactic_vod
Strategy
 
Lookup
 
Call2_vod
Ship_To_Address_Text_vod
Ship To Address
The Ship to Address Formula field corresponds to a formatted version of the Ship to Address fields. This value is leveraged in the case that the referenced Ship to Address has been deleted. This field should not be added to a Page Layout.
Formula
 
Clm_Presentation_vod
Control_Visibility_vod
Control Visibility
If Product is selected, then Detail Group field is ignored when determining CLM content visibility. If Detail Group is selected, then Product field is ignored when determining CLM content visibility.
Picklist
 
Consent_Type_vod
Opt_Out_Disclaimer_Text_vod
Opt Out Disclaimer Text
The text that will be displayed on the review panel for opt outs.
Long Text Area
 
Consent_Type_vod
zvod_Consent_Activity_Tracking_vod
zvod_Consent_Activity_Tracking_vod
The text displayed on the review panel for activity tracking. A checkbox will be added before the text that is stored in this field.
Long Text Area
 
Consent_Type_vod
zvod_Opt_Out_Consent_Line_vod
zvod_Opt_Out_Consent_Line_vod
Veeva markup field that drives the visibility and pagelayout location of the consent changes on review panel for opt outs of the recordtype.
Checkbox
 
EM_Attendee_vod
Network_ID_vod
Network ID
The Network account acting as the attendee
Text
 
EM_Attendee_vod
Walk_In_Status_vod
Walk-In Status
Used to track the status of walk-in attendees at an event.
Picklist
 
EM_Catalog_vod
Vault_Link_vod
Vault Link
Stores the document's Vault Doc ID
URL
 
EM_Event_Action_vod
Add_Delegates_to_Event_vod
Add Delegates to Event
Used to add a delegate approver to the event team
Picklist
 
EM_Event_History_vod
Delegate_Approver_vod
Delegate Approver
The user selected as the delegate approver
Lookup
 
EM_Event_vod
Vault_External_ID
 
 
 
 
EM_Event_vod
Vault_Binder_path
 
 
 
 

Event_Attendee_vod

Child_Account_vod

Child Account

Lookup to the child account for the attendee

Lookup

 

Event_Attendee_vod
Network_ID_vod
Network ID
The Network account acting as the attendee
Text
 

Event_Attendee_vod

Walk_In_Status_vod

Walk-In Status

Used to track the status of walk-in attendees at an event.

Picklist

 

Events_Management_Settings_vod
BULK_ADD_ATTENDEE_vod
Bulk Add Attendee
Determines whether the bulk add feature can be used with the Attendee Selection page.
0: Feature is disabled
1: Feature is enabled
Number
 

HTML_Report_vod

Phone_vod

Phone

Check this field to configure MyInsights visualization for phone form factor

Checkbox

 

Inventory_Monitoring_Line_vod
Line_Rank_vod
Line Rank
Stamps the sequence in which multiple Inventory Monitoring Lines are stored for a same product
Number
 

Medical_Event_vod

Country_vod

Country

Country where an event takes place. Used to define event-level rules.

Lookup

 

Medical_Inquiry_Fulfillment_Response_vod
Address_Line_1_vod
Address Line 1
The Address Line 1 of the Address captured for Medical Inquiry Fulfillment Response.
Text
 
Medical_Inquiry_Fulfillment_Response_vod

Address_Line_2_vod

Address Line 2

The Address Line 2 of the Address captured for Medical Inquiry Fulfillment Response.

Text

 

Medical_Inquiry_Fulfillment_Response_vod
City_vod
City
The City of the Address captured for Medical Inquiry Fulfillment Response.
Text
 
Medical_Inquiry_Fulfillment_Response_vod

Email_vod

E-Mail

Email value captured for Medical Inquiry Fulfillment Response.

E-Mail

 

Medical_Inquiry_Fulfillment_Response_vod
Fax_Number_vod
Fax Number
Fax value captured for Medical Inquiry Fulfillment Response.
Phone
 
Medical_Inquiry_Fulfillment_Response_vod
Country_vod
Country
The Country of the Address captured for Medical Inquiry Fulfillment Response.
Picklist
 
Medical_Inquiry_Fulfillment_Response_vod

Phone_Number_vod

Phone Number

Phone Number value captured for Medical Inquiry Fulfillment Response.

Phone

 

Medical_Inquiry_Fulfillment_Response_vod
State_vod
State
The State of the Address captured for Medical Inquiry Fulfillment Response.
Picklist
 
Medical_Inquiry_Fulfillment_Response_vod
Zip_vod
Zip
The Zip code of the Address captured for Medical Inquiry Fulfillment Response.
Text
 
Medical_Inquiry_Fulfillment_Response_vod

zvod_MIFR_Delivery_Method_vod

zvod_MIFR_Delivery_Method_vod

The zvod_MIFR_Delivery_Method_vod field represents the special VoD Control that will display the filtered Addresses, E-mail Addresses, Phone Numbers, and Fax Numbers for the Account. Additionally, display a checkbox to control whether a new value can be entered rather than selecting one of the above values.

Checkbox

 

Multichannel_Activity_vod__c
EM_Event_vod
EM Event
Indicates which Event Management record the activity is associated with
Lookup
 

Multichannel_Consent_vod

Activity_Tracking_vod

Activity Tracking Consent

The text that the Account consented for activity tracking, from the review panel.

Long Text Area

 

Multichannel_Consent_vod

Opt_Out_Disclaimer_Text_vod
Opt Out Disclaimer Text
The disclaimer text that was shown to the Account, when opt out was captured.
Long Text Area
 

Order_vod

Last_Inventory_Monitoring_Date_vod

Last Inventory Monitoring Date

Pulls the last Inventory Monitoring date (Inventory_Monitoring.Inventory_Monitoring_Date_vod__c) into the Order Header

Date

 

Order_vod
zvod_Free_Good_Splitting_vod
zvod Free Good Splitting
marker field to allow users to manually allocate Free Goods per Delivery during order splitting
Checkbox
 

Plan_Tactic_vod

Progress_vod

Progress

Value calculated from the total and completed number of sub-level tasks

Percent

 

Preferences_vod
Last_Map_Scheduler_Account_List_vod
Last Map Scheduler Account List
This field is used by the system to read/write the last selected list/view on the Map view of My Schedule.
Text
 

Preferences_vod

Last_Map_Scheduler_Bookmark_vod

Last Map Scheduler Bookmark

This field is used by the system to read/write the last selected Bookmark on the Map view of My Schedule.

Text

 

Question_Response_vod
Condition_vod
Condition
Copied from Survey Questions.
Text
 

Question_Response_vod

Inactive_Condition_vod

Inactive Flag

This flag is true if a child questions condition is not met and therefore the question is not visible.

Check box

 

Question_Response_vod
Source_ID_vod
Source ID
Copied from Survey Questions.
Text
 

Remote_Meeting_vod

Attendance_Report_Process_Status_vod

Attendance Report Process Status

Indicates the status of retrieving the attendance report

Picklist

 

Sent_Email_vod
Activity_Tracking_Mode_vod
Activity Tracking Mode
The field that determines what kind of activity tracking is done on the email.
Picklist
 

Sent_Email_vod

Email_Source_vod

Email Source

Stores the object and field API names of the email.

Text

 

Sent_Email_vod
VExternal_Id_vod
VExternal Id
External id to determine which Sent Email to write the anonymous Email Activity for.
Text
 

Sent_Message_vod

Account_vod

Account

 

Lookup

 

Sent_Message_vod

Capture_Datetime_vod
Capture Datetime
 
Date/Time
 

Sent_Message_vod

Content_vod

Content

Content

Lookup

 

Sent_Message_vod

Delivered_Datetime_vod
Delivered Datetime
Delivered Datetime
Date/Time
 

Sent_Message_vod

Detail_Group_vod

Detail Group

Detail Group

Lookup

 

Sent_Message_vod

Last_Open_Datetime_vod
Last Open Datetime
Last Open Datetime
Date/Time
 

Sent_Message_vod

Opened_vod
Opened
Opened
Number
 

Sent_Message_vod

Product_vod
Product
Product
Lookup
 

Sent_Message_vod

Sent_Datetime_vod

Sent Datetime

Sent Datetime

Date/Time

 

Sent_Message_vod

Service_Account_vod
Service Account
Service Account
Lookup
 

Sent_Message_vod

Status_vod

Status

Status

Picklist

 

Sent_Message_vod

Template_vod
Template
Template
Lookup
 

Sent_Message_vod

Territory_vod

Territory

User's territory

Text

 

Sent_Message_vod

Total_Duration_vod
Total Duration
Total Duration
Number
 

Sent_Message_vod

Total_Interacts_With_Content_vod
Total Interaction
Total Interaction
Number
 

Signature_Page_vod

Signature_Page_vod

Signature Page

The Signature page for which the Disclaimer is used.

Picklist

 

Survey_Question_vod
Condition_vod
Condition
Holds the display condition for a question related to branching. If the condition is met, the question will display.
Text
 
Survey_Question_vod
Source_ID_vod
Source ID
This field is used to set an identifier on parent questions. This field is referenced in the branching condition logic.
Text
 

Survey_Target_vod

Employee_Comment_vod

Employee Comment

Stores the Employee Comment response.

Long Text Area

 

Survey_vod
Enable_Employee_Comment_vod
Enable Employee Comment
Copied from Survey_vod when Survey Target header is created.
Picklist
 
VMobile_Object_Configuration_vod
Device_vod
Device
This determines the Client Device. A blank value is interpreted as Tablet_vod.
Picklist
 

Veeva_Settings_vod

LAST_INVENTORY_MONITORING_TYPE_vod

Last Inventory Monitoring Type

Setting for defining which Inventory Monitoring type will be used to define the last IM record to be used to run store-check driven Orders. Value should be the literal match of the Inventory Monitoring RecordType Name.

Text

 

Veeva_Settings_vod
CONTENT_ACKNOWLEDGEMENT_TEMPLATE_vod
Content Acknowledgement Template
The format of the generated Content Acknowledgment receipt can be configured by modifying the HTML text contained within this setting.
Text
 
Validation Impacting Defect Fixes
Platform

Key

Summary

Component

iPad
CRM - 143223
User wasn't required to enter a value for the Sample Card Reason field.
Call Sampling
iPad
CRM - 143294
Supervising Physician field not displaying.
Call Reporting
iPad
CRM - 148609
An error occurred when submitting with Sample Inventory.
Sample Mgmt
iPad
CRM - 149022
Sample Warning Quantity Indicator doesn't work offline.
Sample Mgmt
iPad
CRM - 152496
Signature Blurry and Fades on the side of the box.
Call Sampling
iPad
CRM - 152854
Create Medical Inquiry from Related Child Accounts List Missing
Medical Inquiries
iPad
CRM - 153185
Sunrise Signature Capture "Show Blockers."
Call Sampling

iPad

CRM - 153261

Samples do not display correctly on Signature page. Disclaimer is cut off.

Medical Inquiries
iPad
CRM - 153737
Unable to delete some cloned records.
Medical Inquiries

iPad

CRM - 153758

The Sync Error Detail Page cannot be reviewed.

Sync

iPad
CRM - 153949
Resources are not displaying.
Call Sampling

iPad

CRM - 153980

Canceling a signed Medical Inquiry seems to delete the record but it still displays in the related list.

Medical Inquiries
iPad
CRM - 154169
An error occurs with the Sync and the CLM Overlay.
Medical Inquiries

iPad

CRM - 154796

An error occurs when selecting the + icon to create a new record.

Sample Mgmt

iPad
CRM - 156005
The Sample quantity did not display on the signature page.
Call Sampling

iPad

CRM - 156039

Accounts were not defined.

Medical Inquiries

iPad
CRM - 157112
Fullfilment section did not display on the call.
Medical Inquiries

Browser (Classic)

CRM - 157218

Can't select an account from a Medical Inquiry.

Medical Inquiries

iPad
CRM - 157515
An error occurred with the default setting for the VOD_MEDICAL_INQUIRY_AFTER_INSERT_UPDATE Trigger.
Medical Inquiries

iPad

CRM - 157885

An error occurred when trying to submit a new Sample without filling in a mandatory field.

Sample Mgmt

iPad
CRM - 157983
The + button displayed on the Sample Inventories page even though users did not have the correct permissions.
Sample Mgmt

iPad

CRM - 158274

Completed By, Completed Datetime fields do not populate on Medical Inquiry Fulfillment Response.

Medical Inquiries

 
Windows 8/10
CRM - 159306
Sync tries to upsert MIF record without an Assign To Value
Medical Inquiries