New in Veeva CRM 18R3
The following changes are available to all licensed users of a given product. Instructions to configure these options are discussed in each topic and in the Veeva CRM product documentation.
Windows App
The Windows Tablet application now displays Veeva CRM 18R3 next to the icon. This title is being changed as the 18R3 version of the application is the last classic version before the new Sunrise UI release in 19R1. The 19R1 version will have the traditional Veeva CRM title.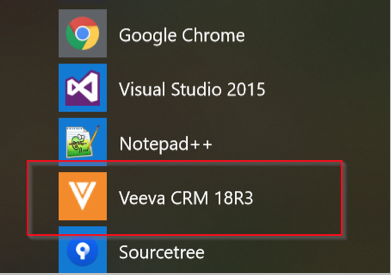 Online Documentation
Note Styles
We updated the note styles in the online documentation to represent the content contained in the notes. There are now three levels of notes:
Note (Blue) - provides additional information

GPS fields must be read-only on all page layouts.

Caution (Yellow) - An adverse effect may occur, for example a misconfiguration

All tokens are case sensitive.

Warning (Red) - A critical error may occur, for example, you may lose data

Do not modify the Company Language of your org.
Feedback
Each topic in the CRM Online Help now displays a Feedback button in the bottom left corner of the page.
Select the Feedback button, enter your email address and feedback, then select Submit. The documentation team receives an email containing the link to the page from which you selected the Feedback button. The email also contains the email address entered for future follow-up.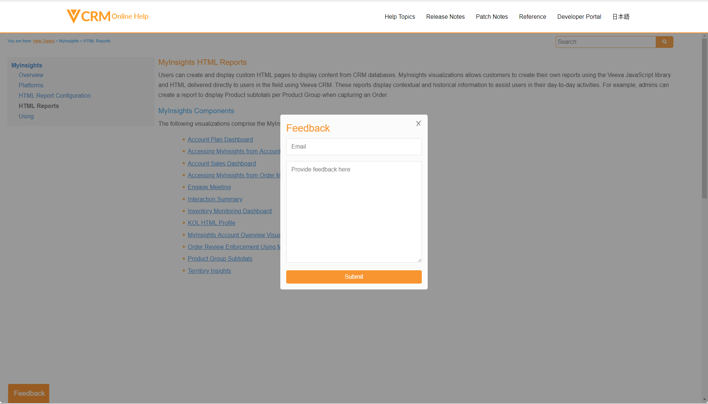 Advanced Searching in the Online Help
The CRM Online Help site now supports advanced search settings to enable users to quickly locate a relevant topic.
Advanced searching consists of two components:
Filtering - Select the Filter icon to limit the list of search results to only display topics belonging to the selected category. Only one filter may be selected at a time.
Exact Search - Select the Exact Search check box to limit the list of search results to only display topics containing the exact term. For example, if the search term is --cat and exact search is enabled, the search results only display topics with words containing exactly --cat. If exact search is not enabled, the search results also include all topics with words that contain cat (category, catalog, etc).
For example, Alice, an administrator at VerteoBiopharma wants to learn more about the --cat section signal. She is unsure which topic to read but knows the section signal is a part of Call Reporting. She enables an exact search for --cat and limits the search results to only display Call Reporting topics. The search returns two results, allowing the administrator to quickly locate the correct topic.
Core CRM
Accounts
Call Reporting
Inventory Monitoring
IM Product Groups<![CDATA[ ]]>
Medical Events
Medical Inquiries
Order Management
Surveys
Events Management
Multichannel
Approved Email
Approved Email Content Search Enhancements
Stamping the Email Source in Approved Email
CLM
Consent Capture
Engage

Engage Webinar Recording

Engage Webinar has been deprecated and is replaced by Virtual Events.
MyInsights
Scheduling and Planning
Parity
Push Notifications
iPad users can now use Push Notifications.
Accounts
Advanced Coaching Reports
iPad users can now comment on Advanced Coaching Reports. See Employee Commenting on Advanced Coaching Reports for more information.
Call Reporting
Call
iPhone Call Reports now support:
Unique Activity calls
Attendee Specific fields
Account Tactic, Product Strategy, Product Tactic on Call Discussion
Medical Discussion
Call Follow-ups
Events Management
Limiting Outside Territory Searches
iPad users can now Limit Outside Territory Searches.
Speaker Contract Generation
Windows Tablet users can now generate contracts for speakers. See Speaker Contract Generation for more information.
Scheduling and Planning
MCCP
MCCP Administrators can now indicate product goals by priority for the same product via one call channel on the iPad platform. See MCCP Goals by Priority in a Single Call Channel for more information.
MyInsights
iPhone now supports MyInsights Deep Linking.
Network
Creating Unverified Records
Windows Tablet users are now able to create unverified records to maintain a clean CRM data set. See Creating Unverified Records for more information.
Surveys
Surveys for iPhone
Surveys are now available on the iPhone platform.
To enable Surveys on iPhone, admins must enable the appropriate Surveys VMOCs. The minimum required VMOCs for Surveys include:
Survey_vod for iPhone
Survey_Target_vod VMOC for iPhone
Survey_Question_vod VMOC for iPhone
Question_Resonse_vod VMOC for iPhone
Admins must ensure they enable the appropriate VMOCs and ensure the Where clauses are updated with any existing Where clauses used for iPad to ensure parity.
See the Surveys documentation for more information.