Enabling My Schedule Map View
To efficiently plan call routes, users can view nearby accounts and schedule calls from My Schedule's Map View.
For example, Sarah Jones has a lunch and learn event scheduled with Dr. Blum at 12:00 PM and a call scheduled with Dr. Goodwin at 3:00 PM. To make the most efficient use of her time, she wants to find other accounts to visit in between. Sarah views the map, sees Dr. Kirchner's office is on the way from Dr. Blum's to Dr. Goodwin's, and plans a 2:00 PM appointment with Dr. Kirchner.
Configuring the Map View for My Schedule
Ensure initial configuration is complete before enabling this functionality.
To enable this feature:
Grant users FLS Read permission to the Latitude_vod and Longitude_vod fields on the Address_vod object.
Data load account latitude and longitude information. See Data Loading in CRM for more information.
Using the Map View for My Schedule
The Maps tab contains three main components: a calendar panel, an accounts panel, and a map panel.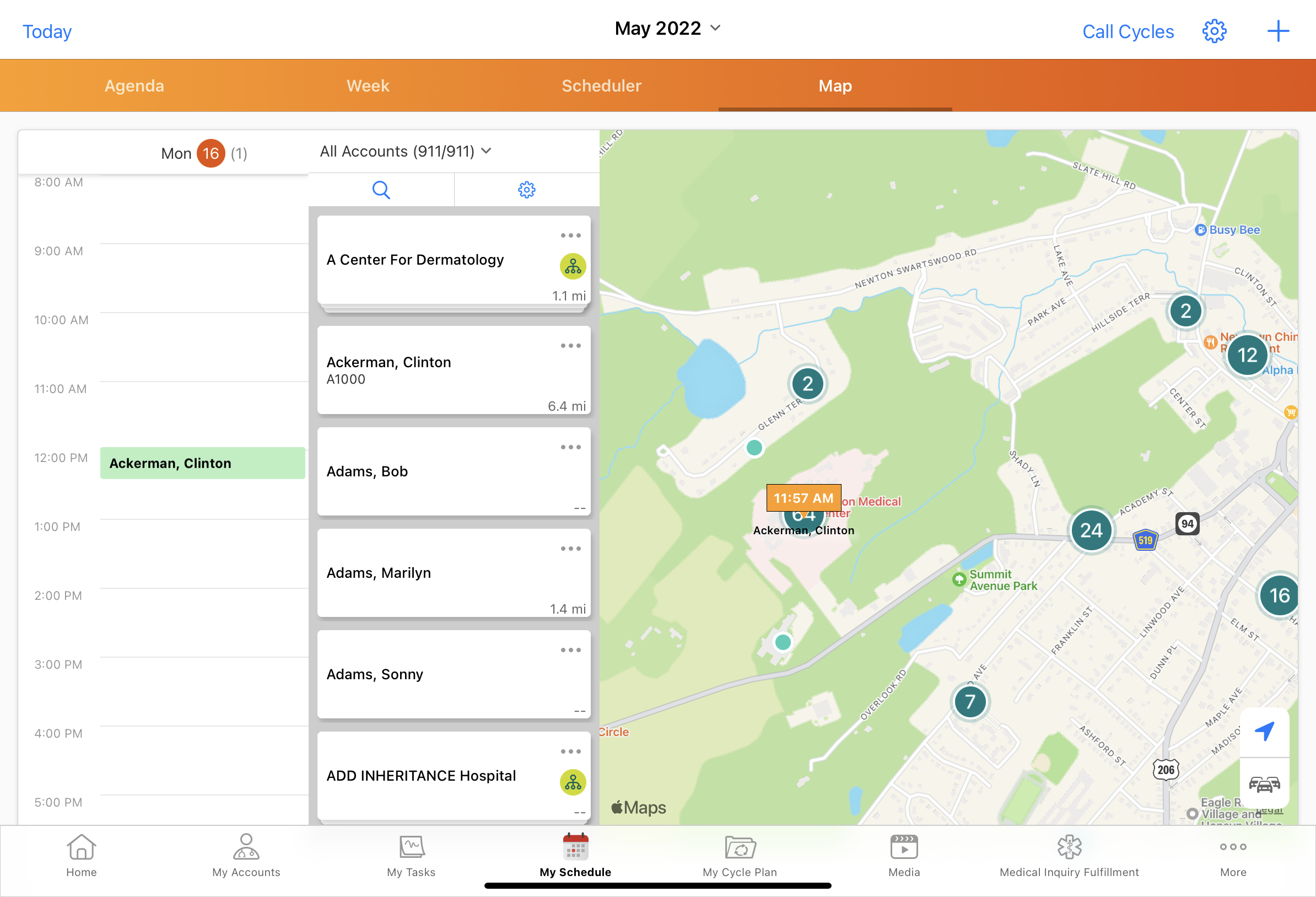 Scheduling Calls from the Accounts Panel in Map View
The accounts panel displays all accounts available for the user, including the distance either from the center point of the user's scheduled calls for the day or, if calls are not scheduled for the day, from the user's current location. Depending on the user's locale, distance displays in miles or kilometers.
To find a specific account, users can filter accounts using the drop-down list at the top of the accounts panel or search for accounts from the search bar.
To schedule a call, drag an item from the accounts panel to the calendar panel. Selecting an account card changes the card to dark gray and enlarges the account's teal dot on the map.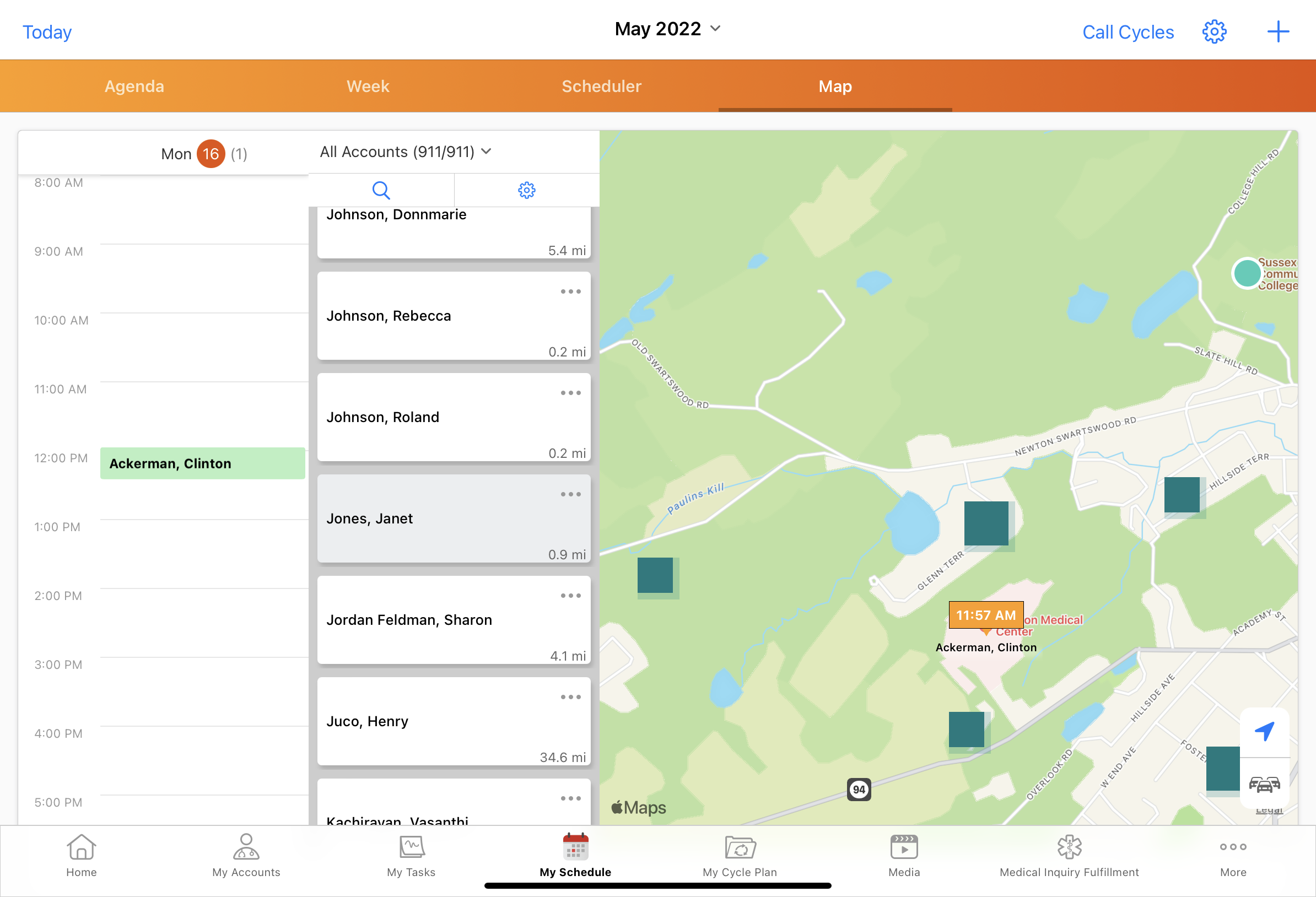 To view Account Details or the Account Calendar for a particular account, select the appropriate option from the More Actions menu on the account card.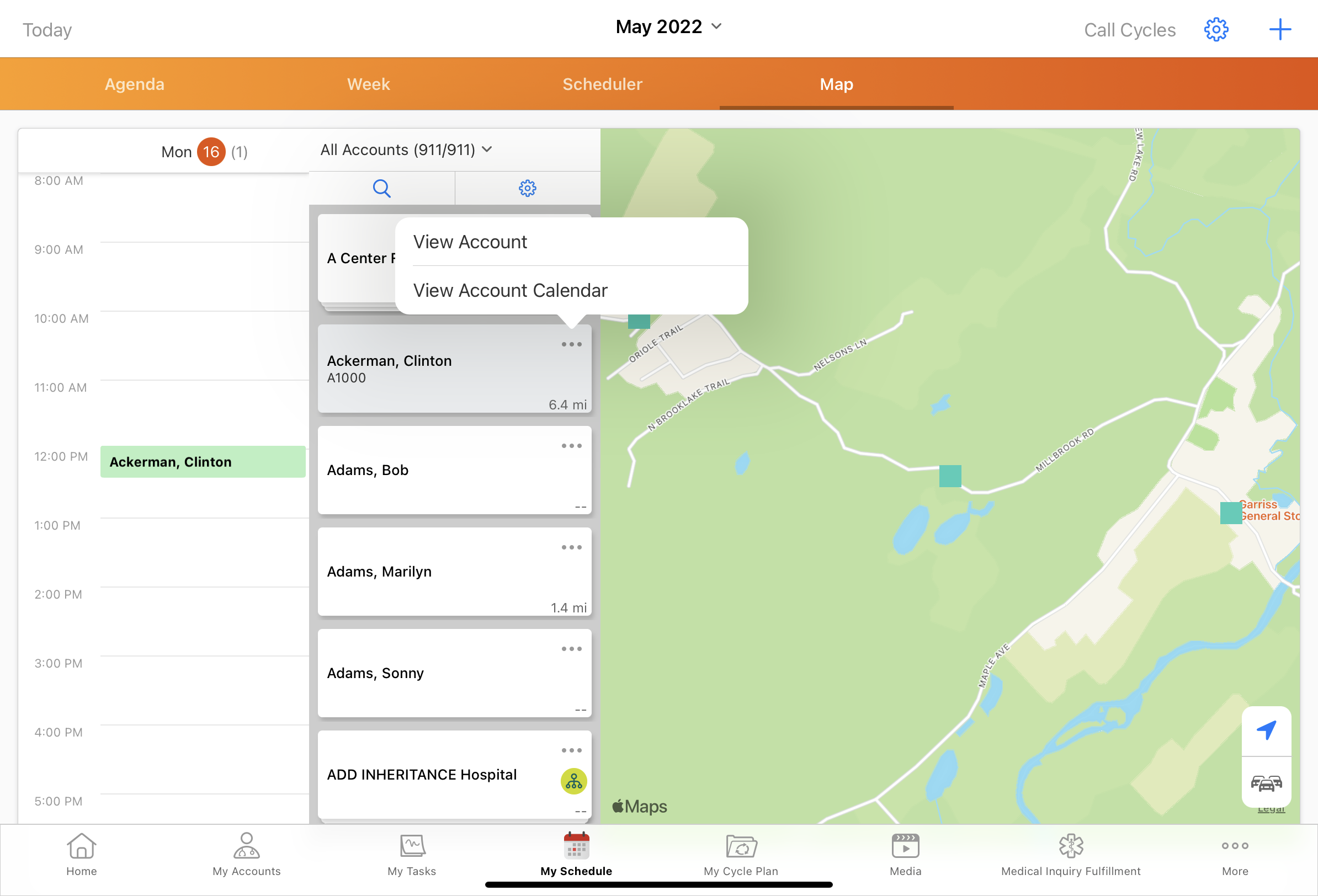 Using the Map Panel in Map View
The map panel displays scheduled calls, pins for accounts nearby, and cluster pins for groups of accounts near each other.
| Marker Type | Image | Usage |
| --- | --- | --- |
| Green dot with number | | Indicates a cluster of accounts close to one another. The number represents the number of accounts in the cluster. |
| Orange timestamp | | Indicates a call at a specific address |
| Teal dot | | Indicates an account without a scheduled call |
Selecting a nearby account pin displays the associated card in the account panel. Selecting a cluster pin zooms the map in, breaks the cluster into smaller clusters, and displays the associated accounts on the account panel.
Only the primary address is plotted. That value is based on the address associated with the TSF record for the account or, if an address is not associated, the address marked as Primary_vod.
Disabling Map View in My Schedule
To disable only the map entry point, populate the Disable_Map_Entrypoints_vod Veeva Setting with MySchedule_vod. To disable all maps entry points, see Configuring Accounts.
Related Topics