Filtering Accounts in My Schedule
Browser (Classic)
iPad
Windows Tablet
To focus on a relevant subset of accounts when planning and scheduling calls, users can apply filters to narrow the results displayed in the accounts panel.
For example, Sarah Jones plans her calls for the upcoming week. She wants to schedule a visit to Dr. Ackerman. To filter out business accounts, Sarah selects the All Person Accounts filter. She easily views Dr. Ackerman's account information and then schedules a call with him.
Ensure initial configuration is complete to use this functionality.
For iPad and Windows Tablet users, account filters are not available in Agenda View.
Filtering Accounts
The filter selector displays above the account list and determines which accounts display in the list. The number of accounts matching the filter displays in parentheses next to the filter name. There are three default filters:
All – lists all visible accounts
All Business Accounts – shows business accounts only
All Person Accounts – shows person accounts only
By default, account lists and views display in the filter list. Select an account list or account view to filter accounts based on the criteria for the list or view. If Using Cycle Plans in My Schedule is enabled, Cycle Plans display as another filter option.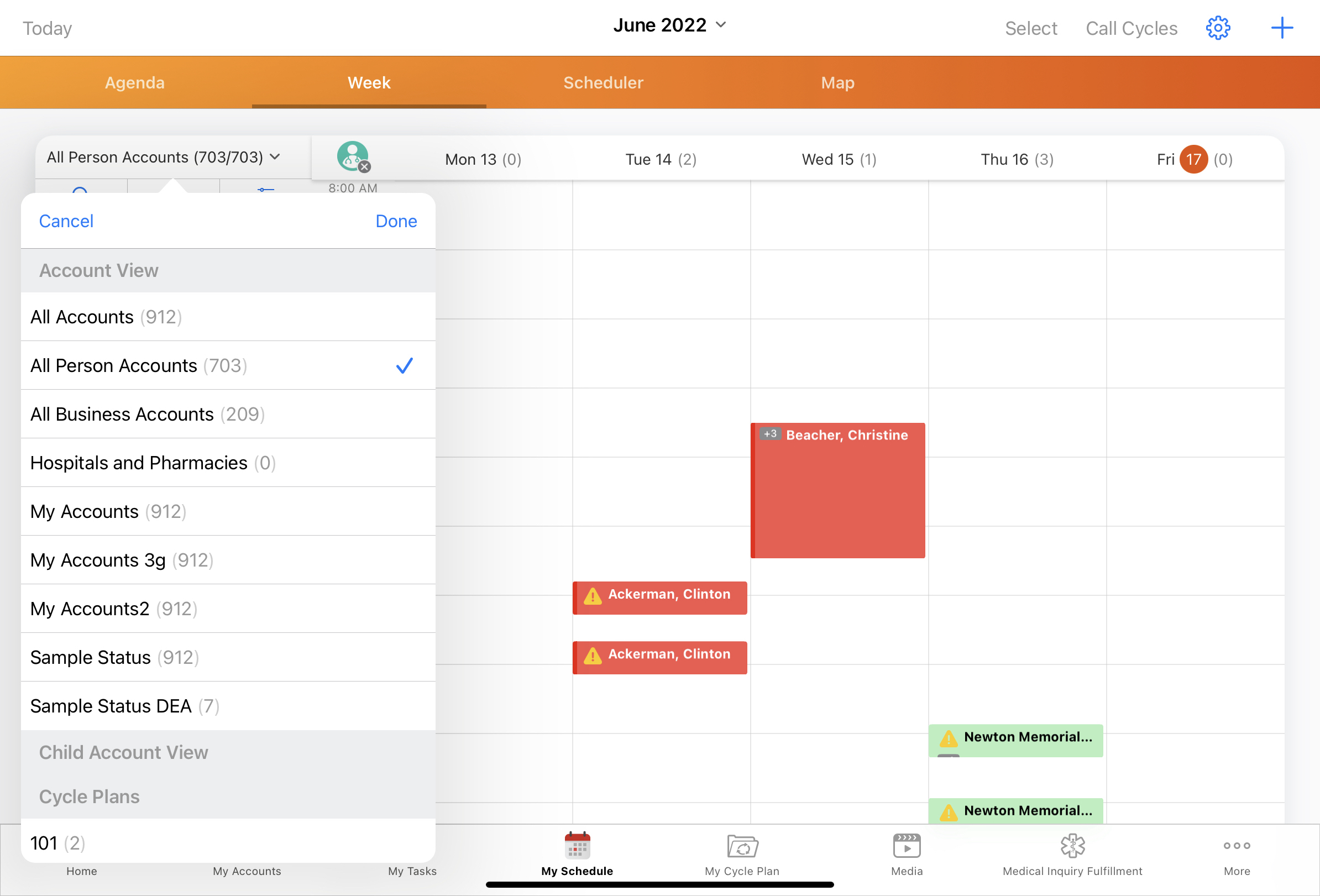 When users select a filter, the accounts matching the filter display in the results area. The list displays accounts with TSF records matching any of the user's assigned territories.
Platform Specific Details
Browser (Classic)
On the Browser (Classic) platform, the Scheduler is similar to the accounts panel. Select the Scheduler icon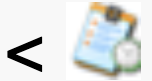 to display a panel with the filter picklist and a list of accounts. Users can filter by Account Lists and Views, like iPad and Windows Tablet users.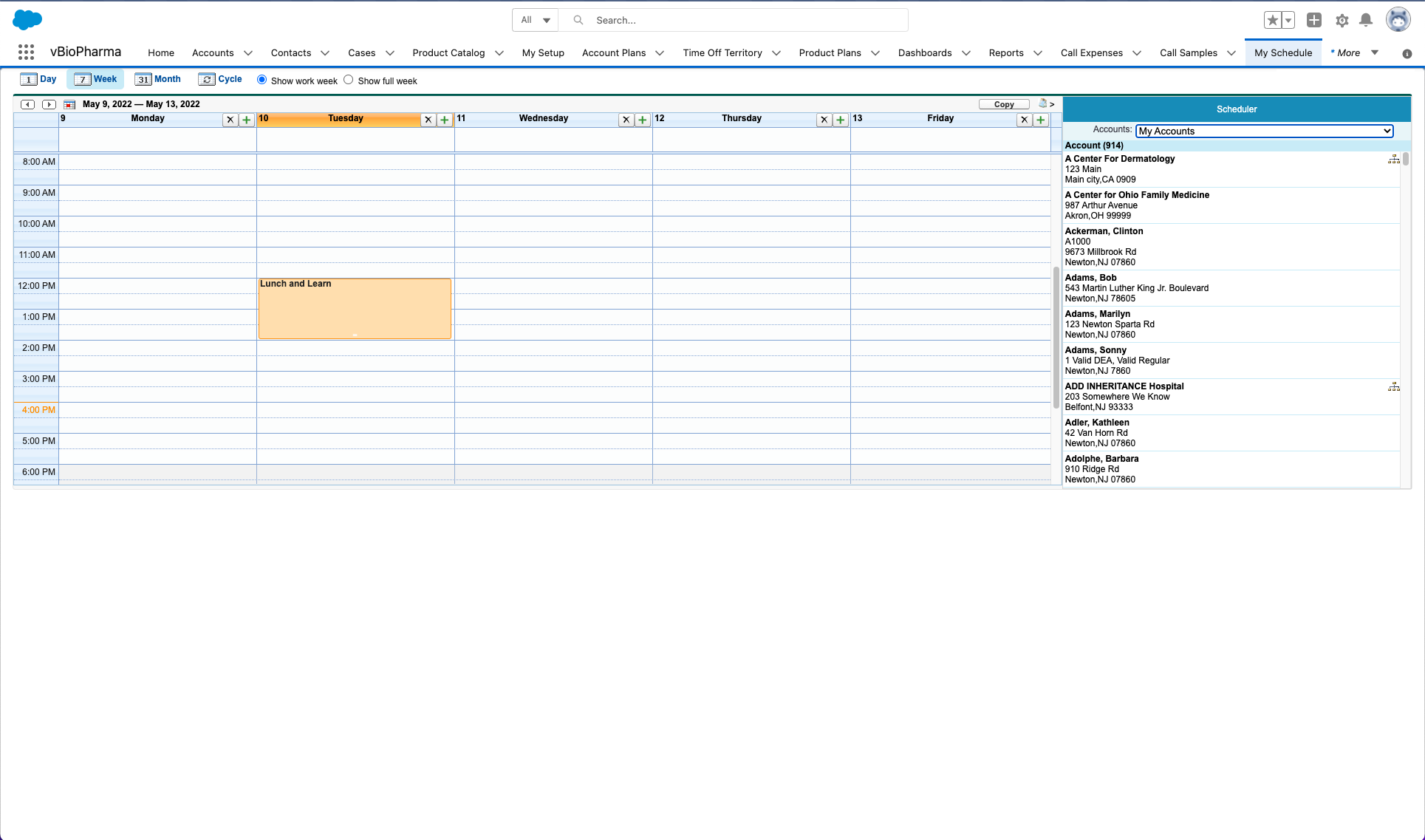 Browser (Classic) users can schedule calls by dragging and dropping accounts from the panel to the calendar, in addition to scheduling new calls from the plus icon in the calendar header and using the call creation methods specific to each view.
Browser (Lightning)
The Scheduler panel is also available for Browser (Lightning).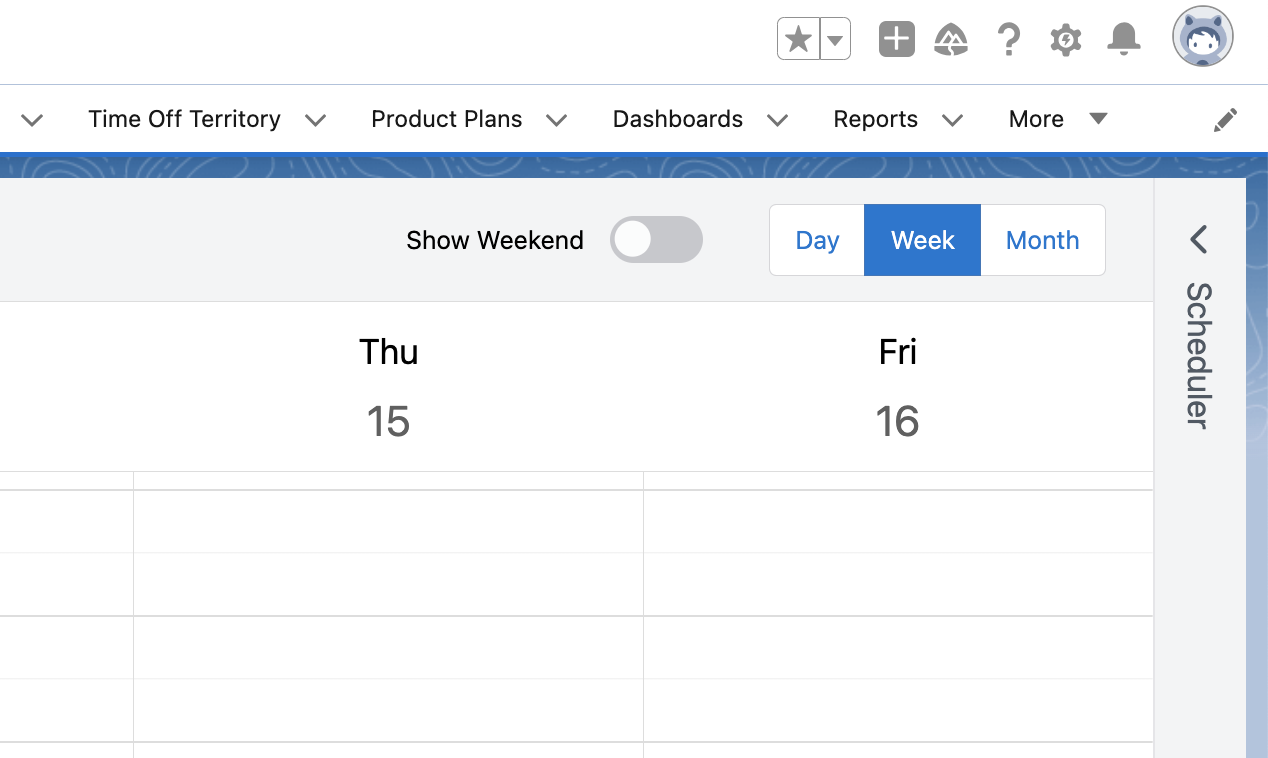 Select the Scheduler sidebar to display a panel with Account Lists and Views. When you select an account list or view, the account list is filtered according to that list or view. An account record type icon displays for each account.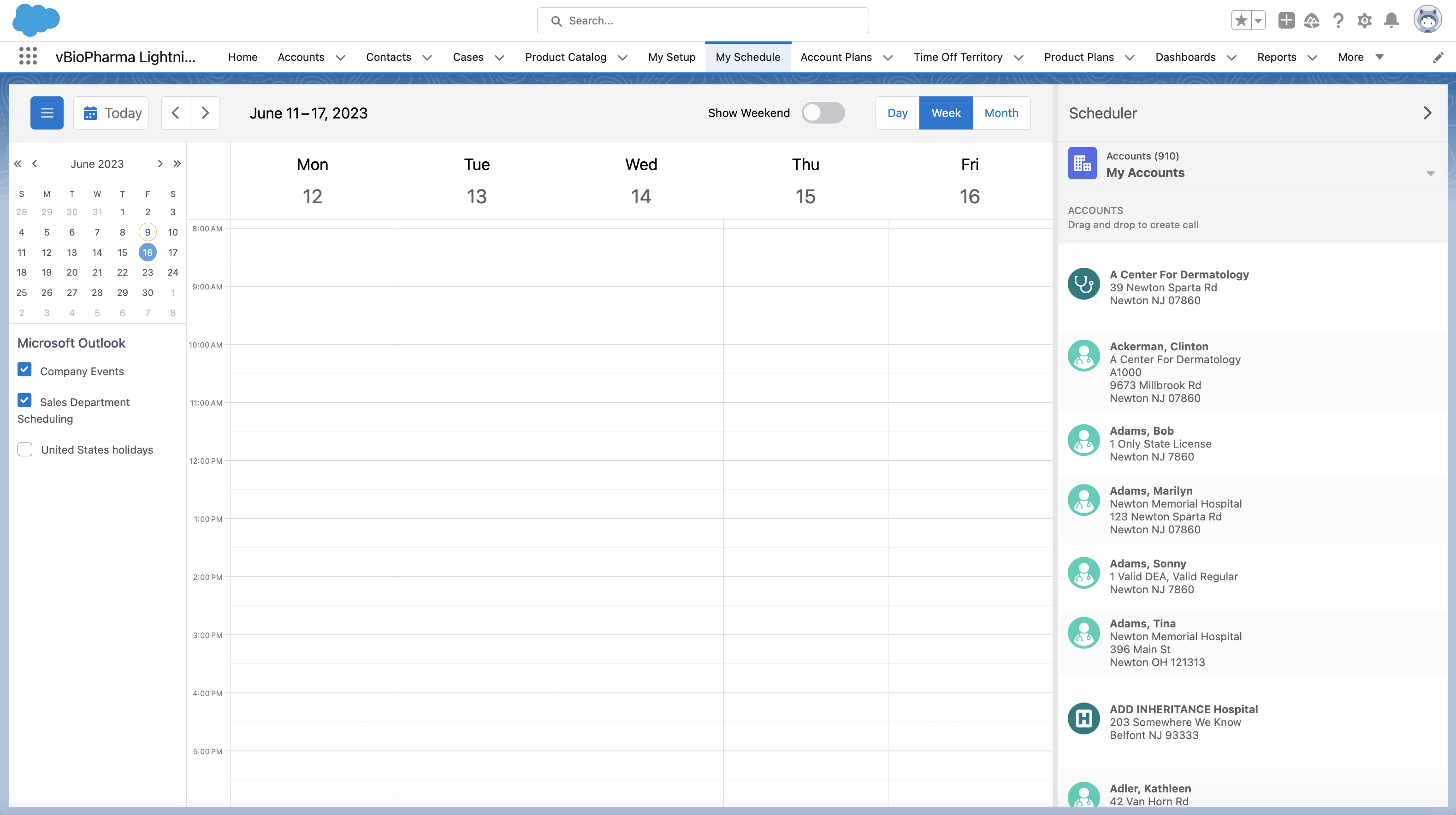 If child accounts are enabled, child account views display under the Account Lists and Views dropdown, and child accounts display in the Scheduler pane's account list.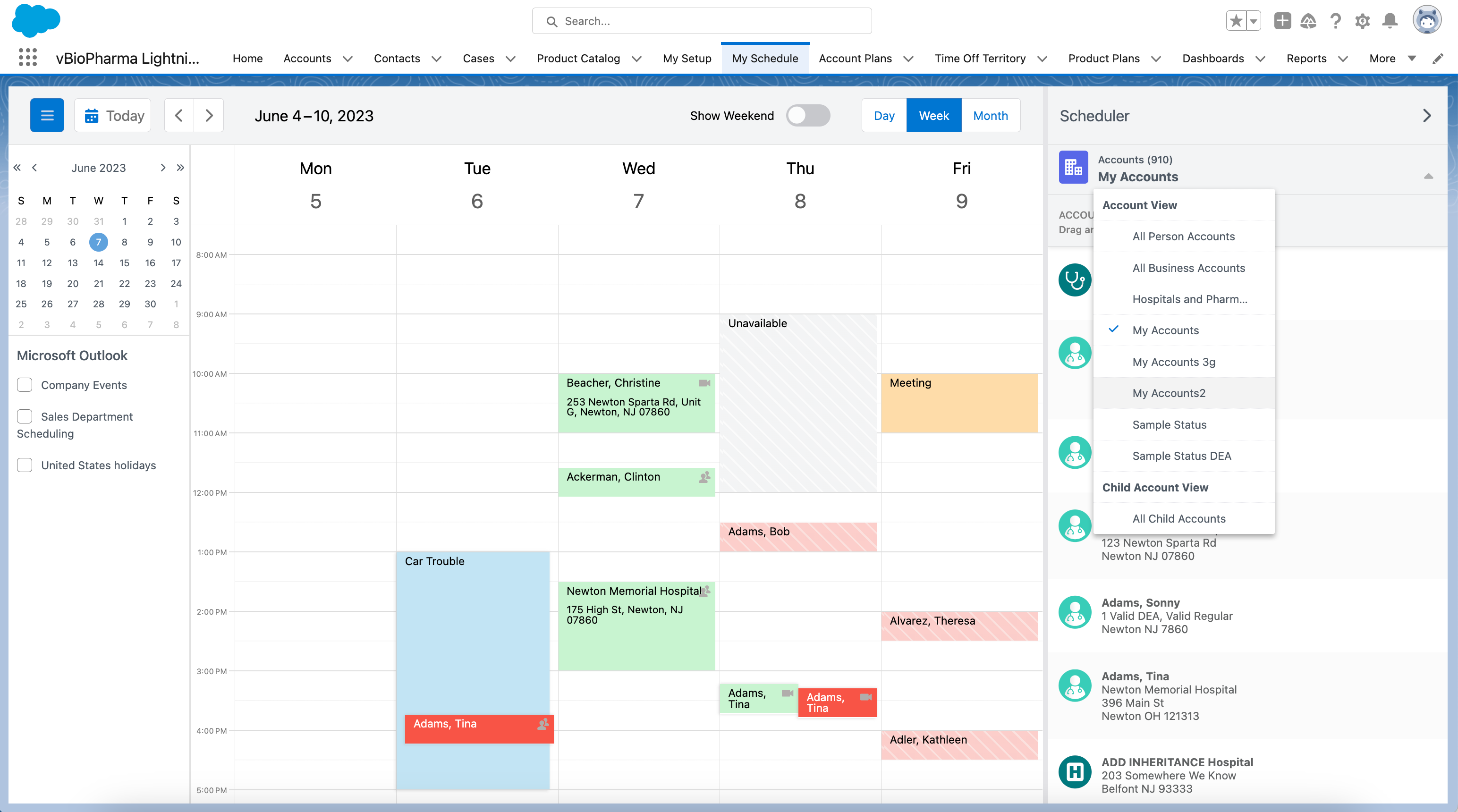 For Japanese language users, ensure the Parent_Child_Furigana_vod field on the Account object is populated. This field is used to sort child accounts in the Scheduler pane.
To create a call, drag and drop the appropriate account from the panel to a time slot on the calendar.
When creating calls from the Scheduler pane, users can only schedule calls in the week they are currently viewing. Users cannot drag calls to the all-day header in day view or week view, unless Capturing the Call Date Only is enabled.
Related Topics