Enabling Engage Chat in CRM
Users chat with HCPs directly from Veeva CRM in the Engage tab. Engage chat is a convenient, secure, and compliant communication channel for users to interact and share information with HCPs outside of calls.
The Engage tab is only available in the Veeva CRM app available from the App Store either by direct download or managed through an MDM. See Installing CRM via the App Store for more information.
For example, Sarah Jones wants to know if Dr. Clinton Ackerman needs any new samples of Cholecap. Sarah navigates to the Engage tab in Veeva CRM, selects the Chat tab, and selects the chat thread with Dr. Ackerman. She sends him a message asking if he needs more samples of Cholecap. Later, Sarah receives a notification in Veeva CRM about a new message from Dr. Ackerman. She selects the notification, which displays the chat thread with Dr. Ackerman.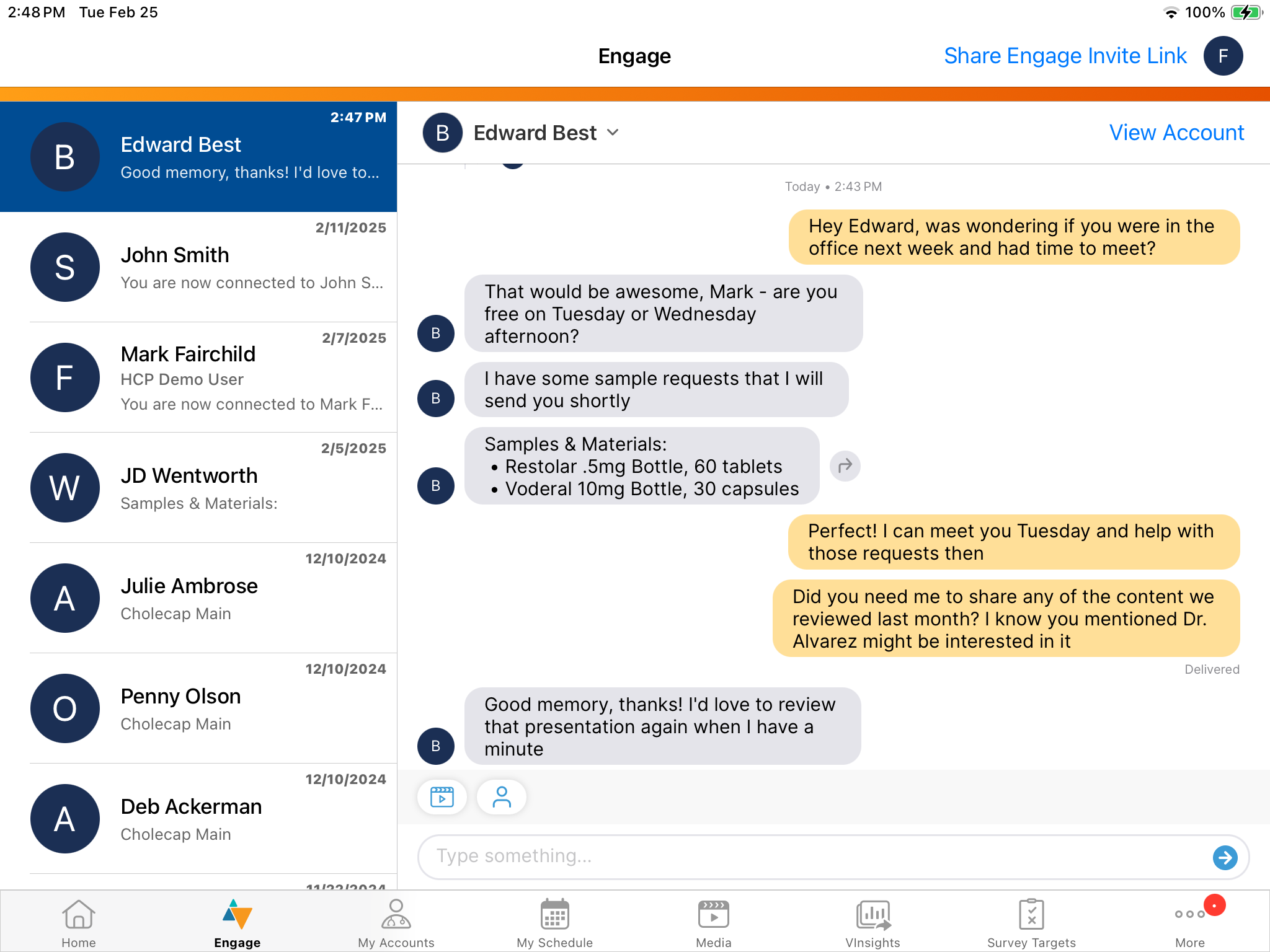 Configuring the Engage Tab in CRM
The Engage tab displays in CRM for users who meet one of the following conditions:
The user is assigned to an Engage Connect group
The user is not assigned to an Engage Connect group but the org-wide Communication Channel setting for Engage users is set to PING or CHAT

Users with Ping enabled can only receive messages in the Engage tab.
See Configuring Engage Connect for more information about Engage Connect groups and settings.
Using the Engage Tab
The Engage tab always displays as the second tab, to the right of the Home tab, and cannot be reordered. See Managing Tab Visibility and Display Order for more information about the tabs on the navigation bar.
When users navigate to the Engage tab for the first time, a modal about push notifications displays. Users can select Allow Notifications to receive push notifications about new chat messages, or No Thanks to dismiss the modal.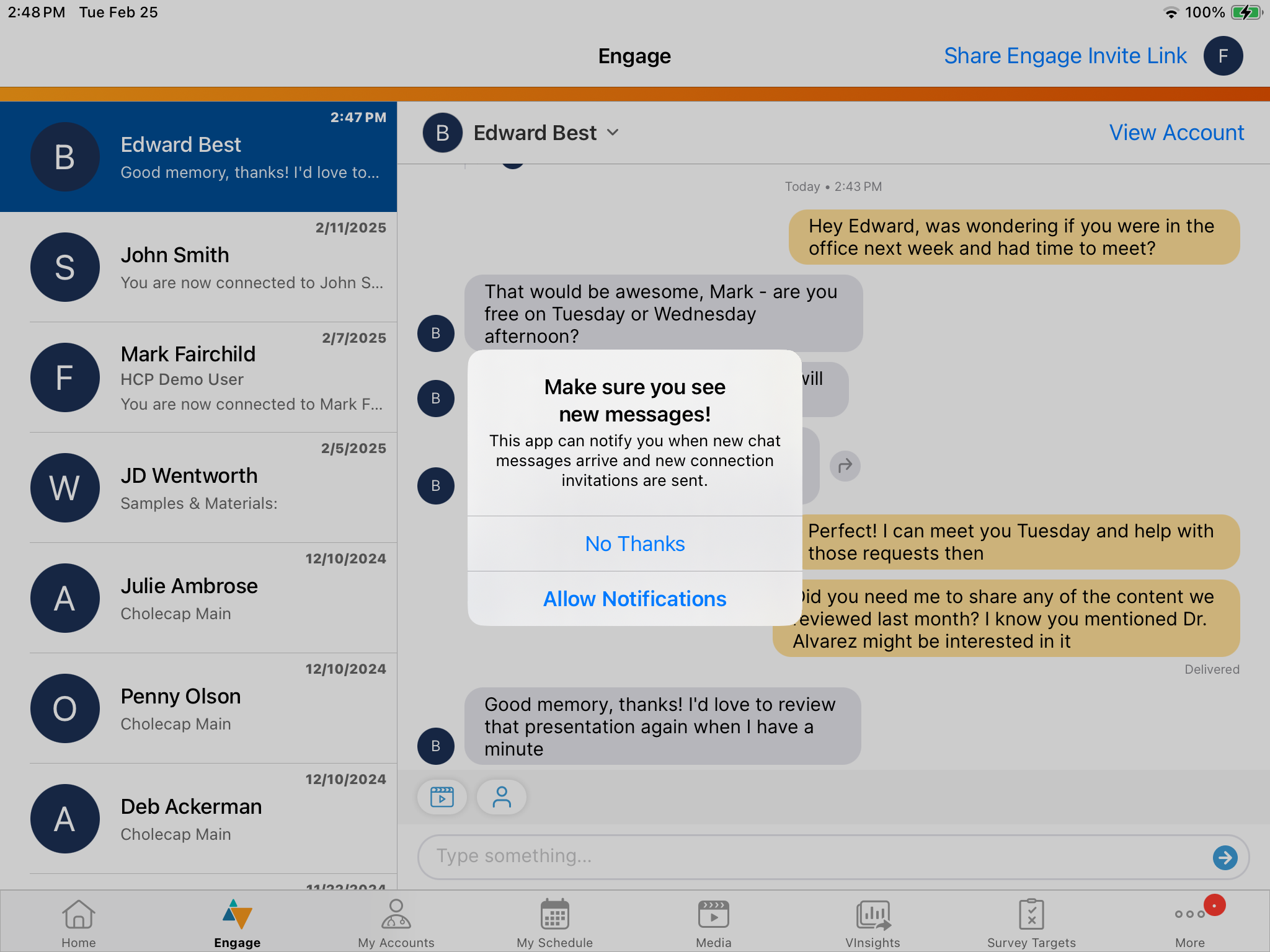 Users can manage push notifications for Veeva CRM by launching the Settings app on their devices and navigating to Veeva CRM > Notifications.
You can only register for push applications for one Veeva application per device. If you have Veeva CRM, Engage, and Engage Connect installed on the same device, you receive push notifications for whichever app you are logged in to and most recently opened.
In the Engage tab, users can view their Engage chat threads, and chat with connected CRM users and HCPs directly from CRM. Users must have an active internet connection to load chat threads, and to send and receive chat messages. In a chat thread, users can:
Share contacts

Send approved content

Forward messages
See Using the Chat Tab for more information about these message types.
A badge counter displays on the Engage tab when users receive new chat messages.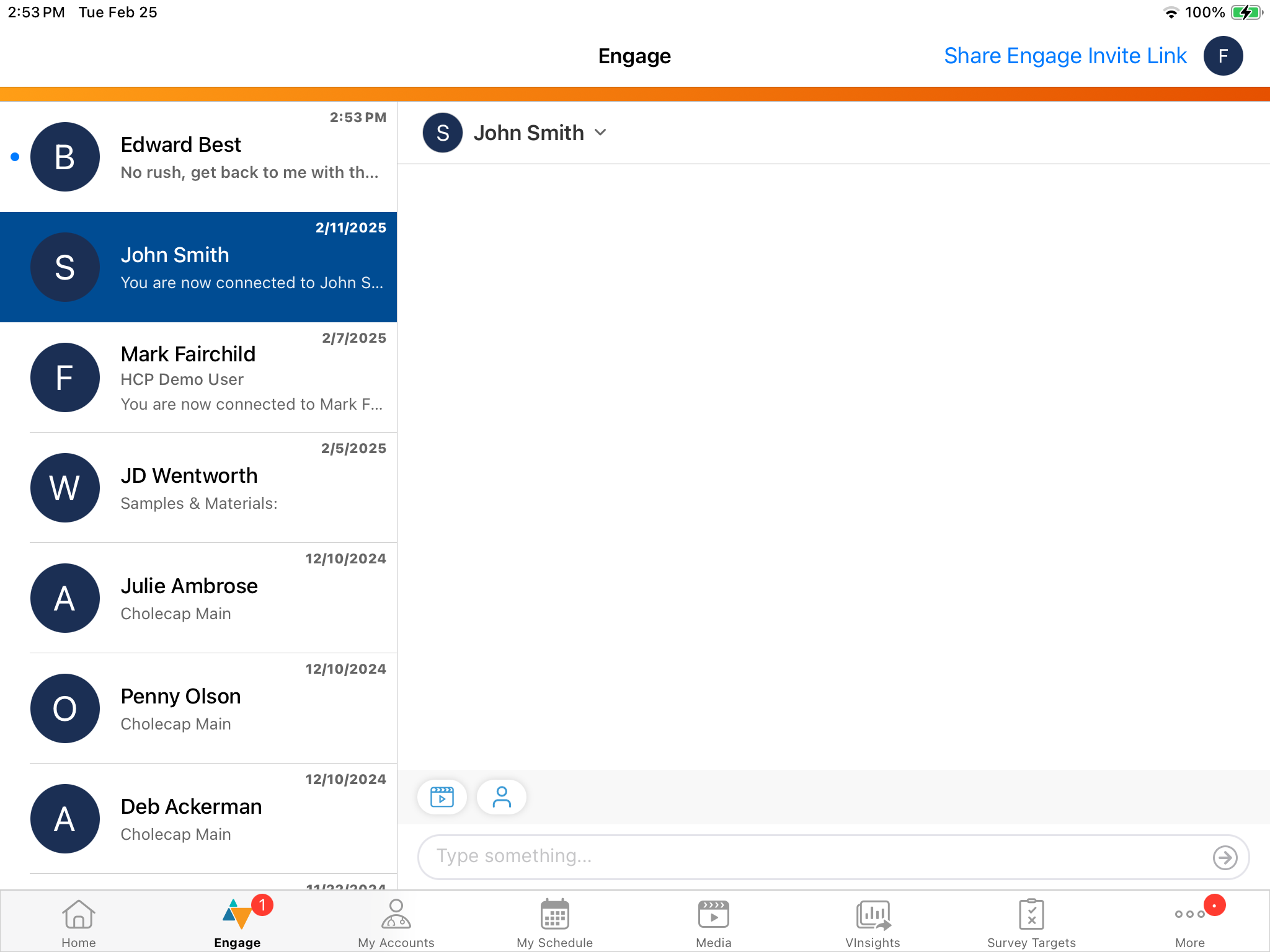 If users have push notifications enabled, they also receive a push notification for each new message.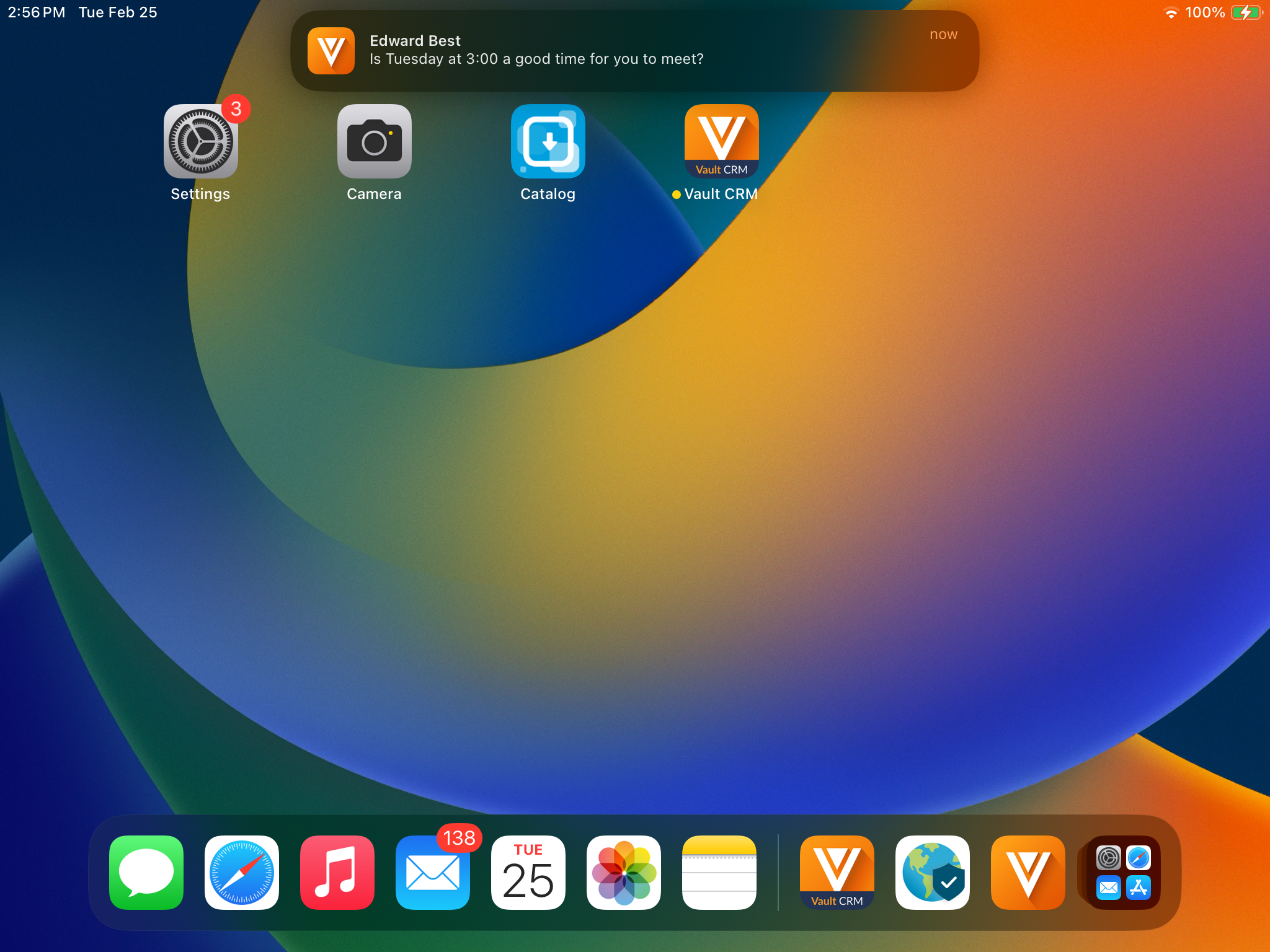 Selecting a push notification displays the chat thread for the new message.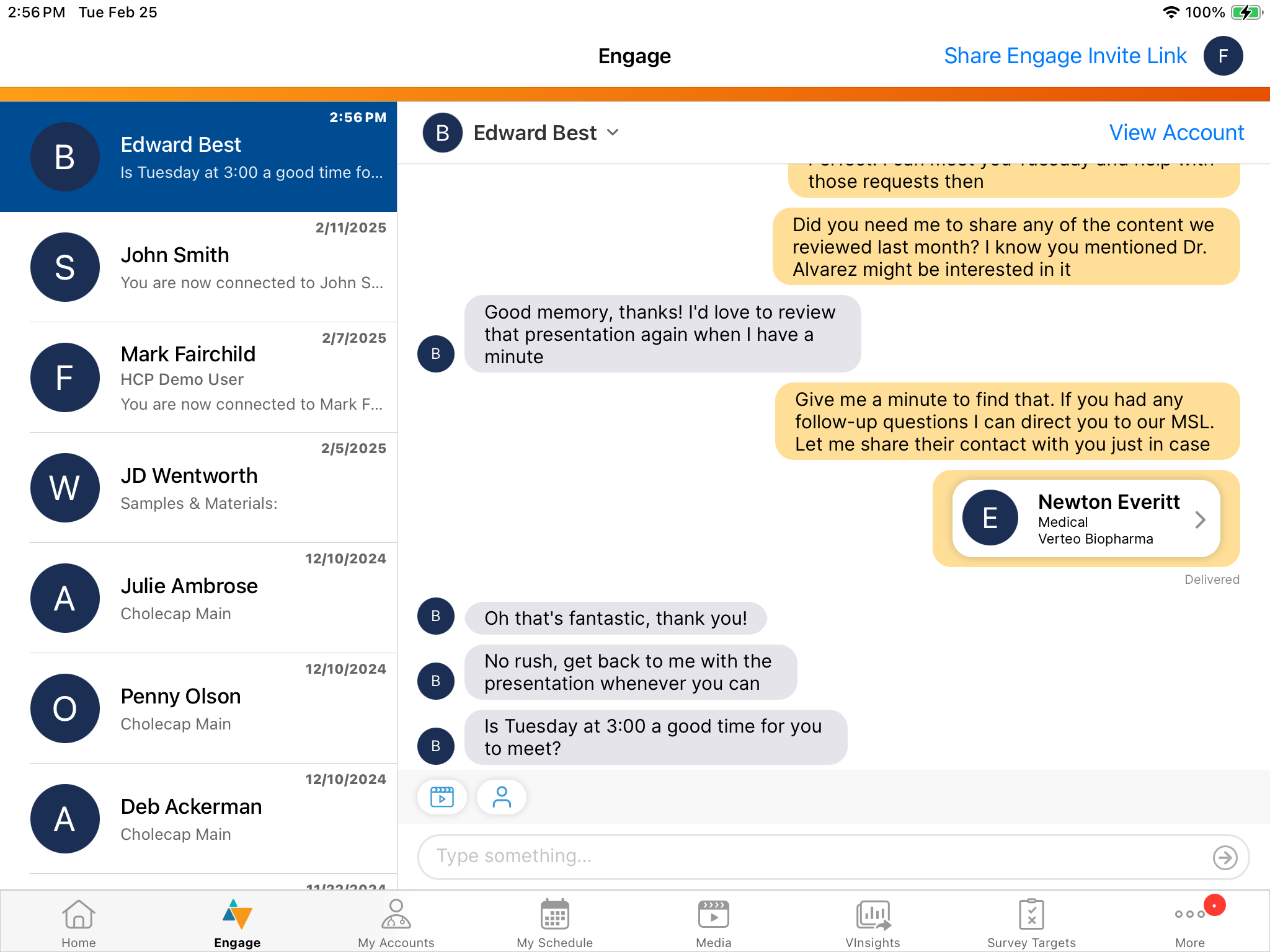 Users can also navigate to a specific chat thread from the Engage profile indicator on an account. See Displaying the Engage Profile Indicator on Accounts for more information.
Customers can use Approved Notes to monitor these chat messages. See Importing Engage Connect Chat Logs into CRM as Chat Messages for more information.