Copying and Forwarding Chat Messages in Engage Connect
CRM users and HCPs can copy or forward chat messages within Engage Connect and in the Engage tab in Veeva CRM as a quick way to share more information. Additionally, forwarded messages are tracked and the data can be used in reporting, allowing customers to gain insight on how their users communicate with forwarded messages.
Configuration is not needed for this feature.
Using Message Actions
Users can copy or forward messages from the action menu. To display the action menu for a message, press and hold the message on a mobile device or hover over the message in the browser. Users can also forward messages they receive using the Forward button. The Forward button is not available for sent messages.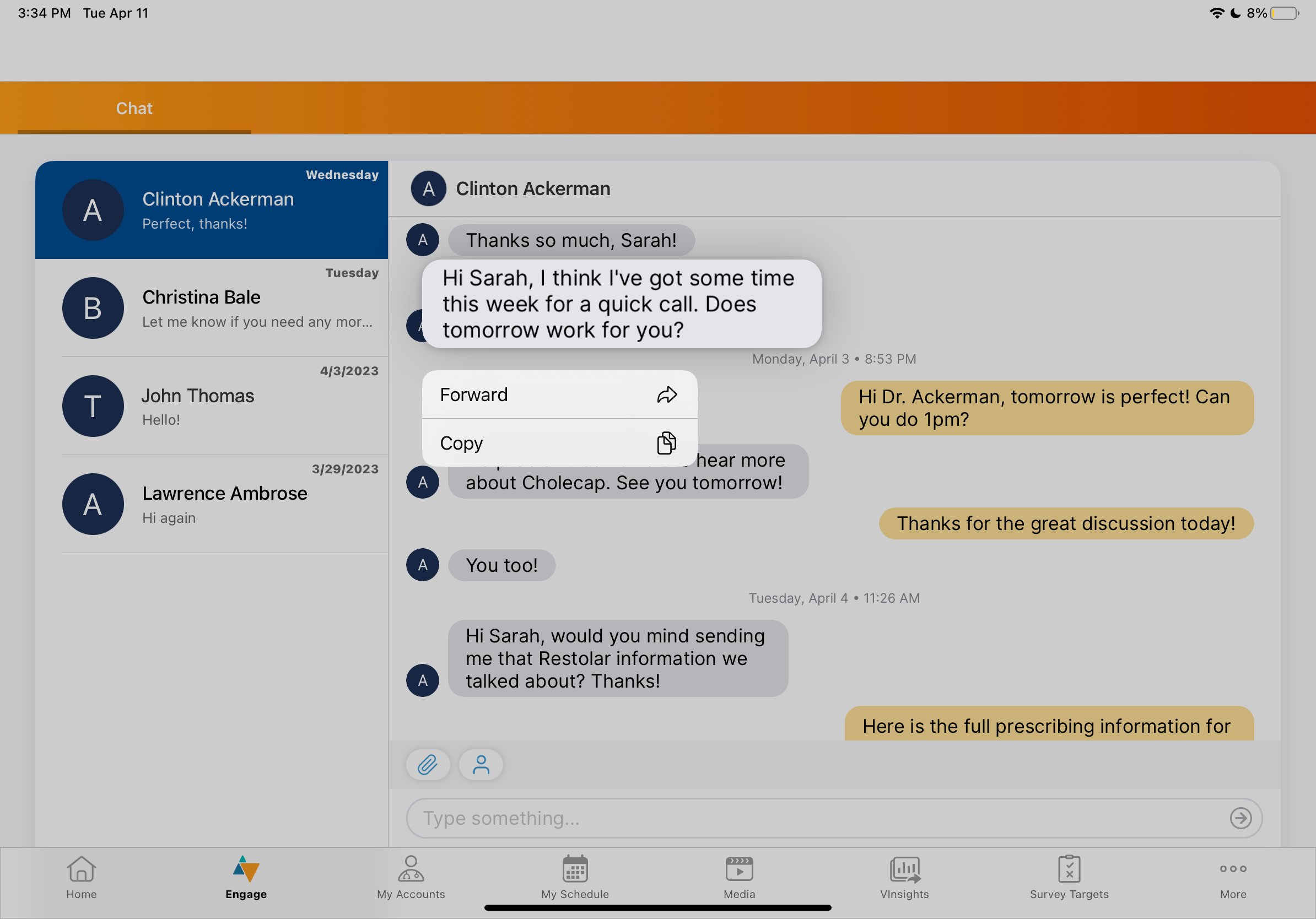 The action menu only displays if the Copy or Forward actions are available for the message and the users in the chat thread are connected.
If the chat thread is active, Copy and Forward are available actions for the following message types:
| Message Type | Copy? | Forward? |
| --- | --- | --- |
| Free text (including emojis, URLs, plain text) | | The Forward button is only available for free text messages including URLs. |
| Shared Contact card | | |
| Approved Content | | |
| Web link for websites | | |
| Web link for auto-published content | | |
| Web link for binders and slides | | |
| Web link for custom presentations | | |
| Remote CLM link | | |
| Samples and Materials request | | |
| Brand profile resource | | |
Copying Chat Messages
To copy a chat message, open the action menu and select Copy to save the text to the clipboard.
Forwarding Chat Messages
Users can forward messages to the following types of CRM users and HCPs:
An existing connection
An existing Engage account (HCP) or Engage Connect account (CRM user) they're not yet connected to
An HCP without an Engage account
Users cannot forward a message whose author is inactive or deleted. Users cannot forward a message from a CRM user at one company to a CRM user at a different company.
To forward a chat message:
Select the Forward button, or open the action menu and select Forward to display the Forward Message modal.
Select the recipient from the list of possible recipient connections, or enter the recipient's email address and select the button below Send via Email.
Enter a message to accompany the forwarded message, if desired.
Select Send.
Tracking Forward Messages
Forwarded messages sent to and from CRM users are included in the Chat Message, Chat Detail, and Chat Activity reports. Additionally, the Forwarded Messages report is available. See Forwarded Messages Report for more information.
To allow customers to continue importing Engage Connect chat logs into CRM as chat messages for chat monitoring, ensure admins and integration users have FLS edit permission to the following fields on the Chat_Message_vod object:
Forwarded_Comment_vod
Original_Author_Name_vod
Original_Author_Ext_Id_vod
Original_Message_External_Id_vod
Forwarded messages in chat threads between CRM users and HCPs can be monitored via Approved Notes. See Approved Notes for more information.