Using the Me Tab as an HCP
The Me tab enables HCPs to manage their associations and personal information, including performing the following tasks:
View and Edit their profile information
View their connections
Invite coworkers to connect and chat
Join or create offices
Manage privacy settings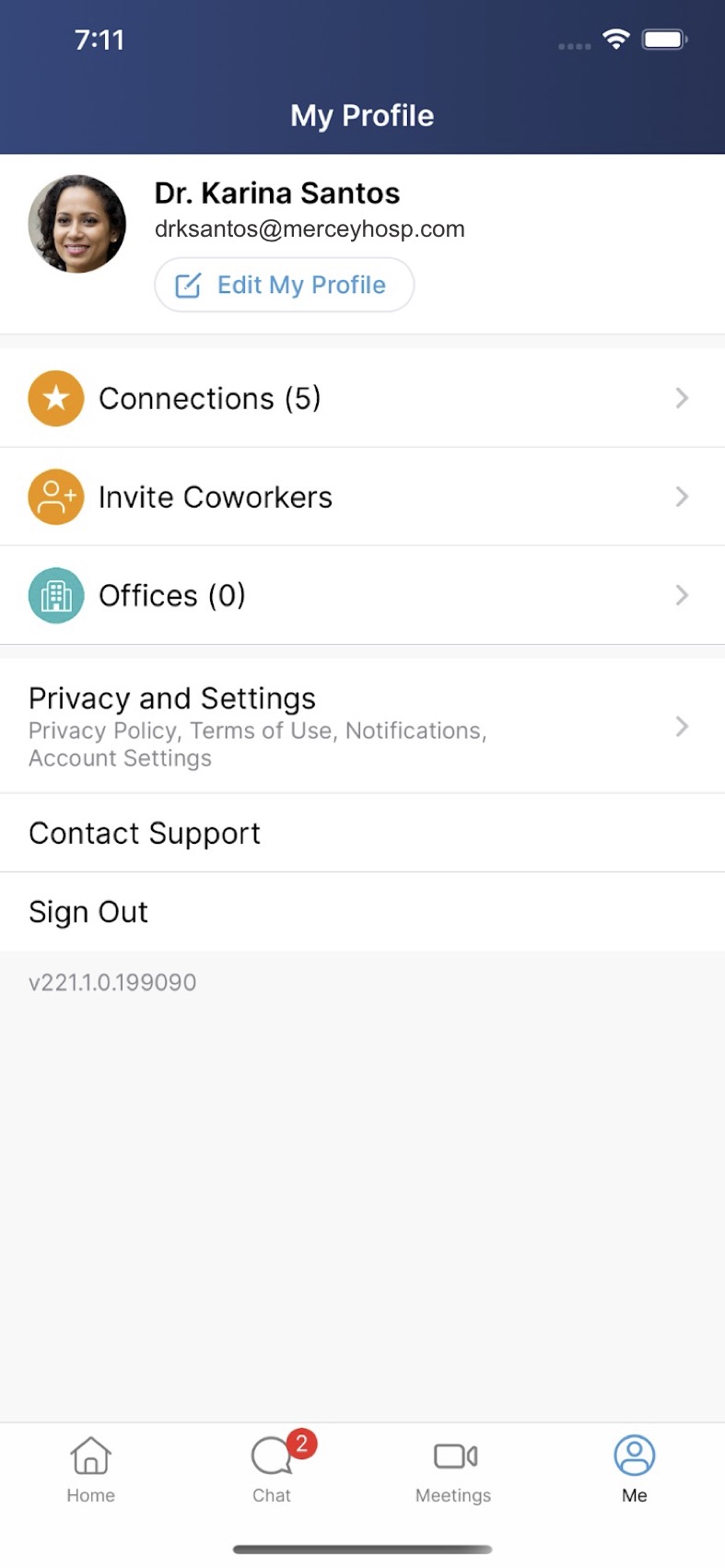 Editing Profiles
To edit a profile:
Select Edit My Profile.

Update the appropriate contact information, display name, and profile photo.

Information in the Private Profile section does not display to connections and cannot be updated.

Select Save Changes.
Viewing Connections
HCPs can also view their connections from the Me tab by selecting the Connections section. The number of connections for the HCP displays in parentheses.

Connections with a briefcase icon on their profile photo represent connected CRM users.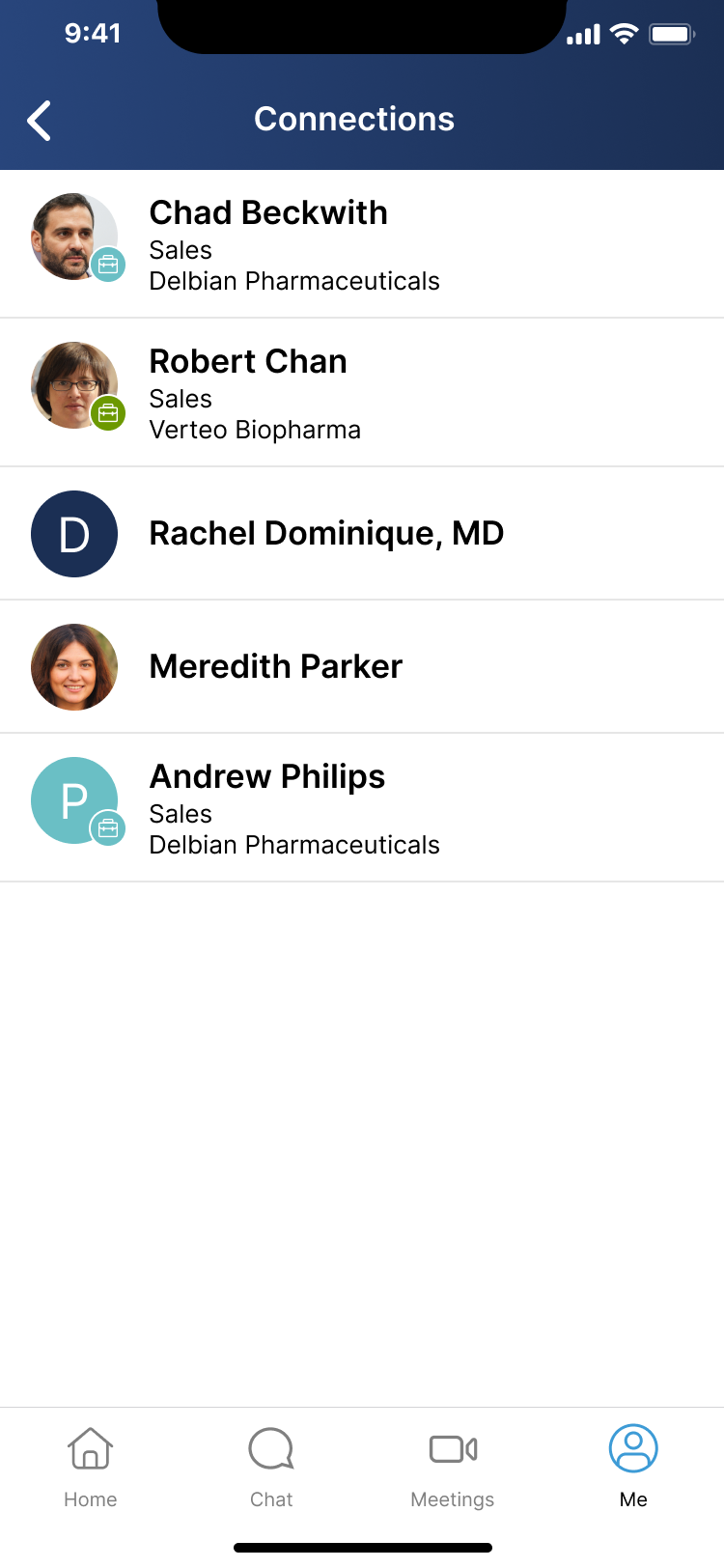 Select a connection to display the connection's profile.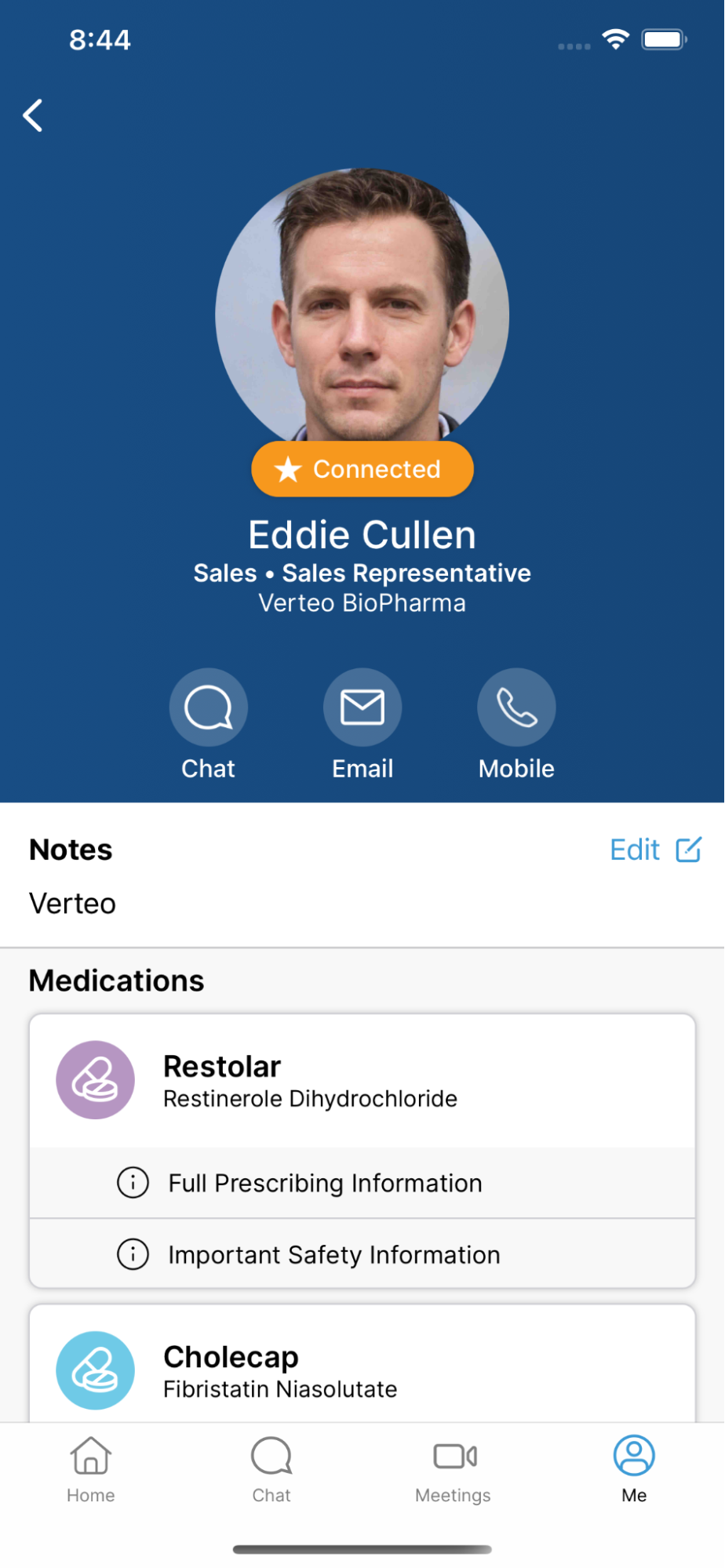 CRM user profiles display information based on the CRM user's company configuration. The CRM user's profile also displays a list of products that the user is configured to use. HCPs can select a brand to display the corresponding Brand profile.
If the brand does not have a configured brand profile, the brand displays as grayed out in the list.
Disconnecting from a Connection
To disconnect from the connection:
Navigate to the appropriate connection.
Select the Connected! button beneath the profile photo

Select Remove Connection in the confirmation modal.
Inviting Coworkers
From the Me tab, HCPs can invite coworkers to connect and chat with them in Engage.
To invite coworkers:
Select Invite Coworkers from the Me tab.

Enter the appropriate email address.

Select Send Connection Invite.
HCPs can also view their previously sent connection invitations by selecting Sent Invites.
Managing Offices
HCPs can view and manage offices from the Me tab. Offices display information, for example, time zone, postal codes, and visitor policies and are used by CRM users when scheduling meetings with HCPs.
To create a new office:
Select the Offices section from the Me tab.

Select Create New Office.

Enter the appropriate office information.

Select Save.
In addition to creating new offices, The Offices page also prompts HCPs join existing offices of connected coworkers.
To edit or leave an office:
Select the appropriate office from the list of offices.

Select the … button.

Select either Edit Office or Leave Office.
Defining Rep Hours
Rep hours are HCP-defined periods of time when HCPs associated with an office prefer to meet with CRM users, enabling easier scheduling.
Rep hours are for informational purposes only and do not limit selectable times within scheduling.
To define rep hours for an office:
Navigate to the appropriate office.
Select Add in the Rep Hours section.

Select the link for the appropriate day.

Select Add Hours to add a block of hours for availability.

Select the appropriate start and end times for the block.

A day can contain multiple blocks of availability.

Select Save.
Privacy and Settings
HCPs can select Privacy and Settings from the Me tab to manage their notifications, view their terms of use, privacy policy, or delete their account.