About 22R3.0
This topic provides information about the Veeva CRM 22R3.0 major release, including important dates, webinar information, and release announcements.
All dates listed are subject to change.
Dates to Remember
November 10, 2022 – Release Notes available
November 17, 2022 – Sandbox release
December 8, 2022 – Production release
Webinars
View the presentation recording here.
Release Notes
The following items are now available:
Announcements
Dark Mode for CRM Documentation
The 22R3 release includes a toggle that users can select to view the CRM Documentation in Dark Mode for improved visibility and less eye strain in low-light conditions.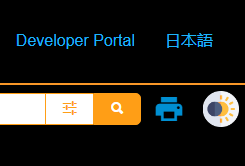 Updating Release Numbering for Veeva CRM Desktop and Engage
The Veeva CRM Desktop for Windows, Engage HCP, and Engage Speaker apps now follow Veeva CRM's release numbering. See About CRM Releases for more information.
New Date for the 22R3.0 Major Release
The 22R3.0 major release is rescheduled to December 8, 2022 (previously December 15, 2022). To provide a three-week sandbox period, the 22R3.0 sandbox release is rescheduled to November 17, 2022. Additionally, the 22R2.3 minor release is canceled to support rescheduling the 22R3.0 major release. For a full list of the release dates for 2022, see About CRM Releases.
Improved Account Picker for Call Attendees
The 22R3.0 major release will include an improved account picker for call attendees. When searching for call attendees, users will be able to select multiple accounts and search on custom fields. Each custom field will display as a column in the search results.
Salesforce is Enforcing Enhanced Domains for Sandboxes and Non-Production Orgs in Winter '23
Salesforce is enforcing enhanced domains for sandboxes and non-production orgs in Winter '23. See Plan for Salesforce Domain Changes for more information.
Deprecating Platform Support
The following platforms will no longer be supported after the 23R3.0 release:
After the 23R3.0 release, orgs which have not transitioned to Lightning will continue to be upgraded but Veeva CRM functionality will not be supported on the Browser (Classic) platform. Functionality is not guaranteed to work as expected on the Browser (Classic) platform after 23R3.0, and Veeva CRM updates and bug fixes will no longer be available for Browser (Classic).
End of Support
See End of Support for a list of deprecated features, devices, and OS versions.