Restricting Products by Account
Browser (Classic)
CRM Desktop (Windows)
iPad
iPhone
Windows Tablet
Customers can restrict users' product detailing and sampling of certain products and detail topics by account. This can help ensure that users comply with regulations or organization policies concerning product detailing and sampling. For example, by United States regulations, users are not supposed to detail or sample Restolar to HCPs who do not have DEA licenses. To help ensure that users comply with product detailing and sampling regulations, Verteo Biopharma restricts users from detailing or sampling Restolar to the accounts of United States HCPs without DEA licenses.
Considerations
Product restrictions are enforced throughout Veeva CRM wherever products are used, including the following areas:
Approved Email that references the restricted product will not be sent to that account
Suggestions for that account will not display any restricted products
Users cannot display CLM Key Messages or Presentations that reference restricted products for an account
Configuring Product Restrictions
Ensure initial configuration is complete before enabling this functionality.
To enable this feature:
Populate the Restricted_Products_vod field on the Account object with a double semicolon delimited list of the product and detail topic names that should be restricted. For example: Cholecap;;Restolar;;Labrinone.

Grant users FLS read permission to the Restricted_Products_vod field on the Account object.
Place the Restricted_Products_vod field on the appropriate page layout for the Account you want to restrict (optional). Adding the Restricted_Products_vod field to the account page layout allows users to view which products are restricted for the account.
If a user attempts to detail products that are restricted for an account, an error message displays and the user is not able to record the products on the call report.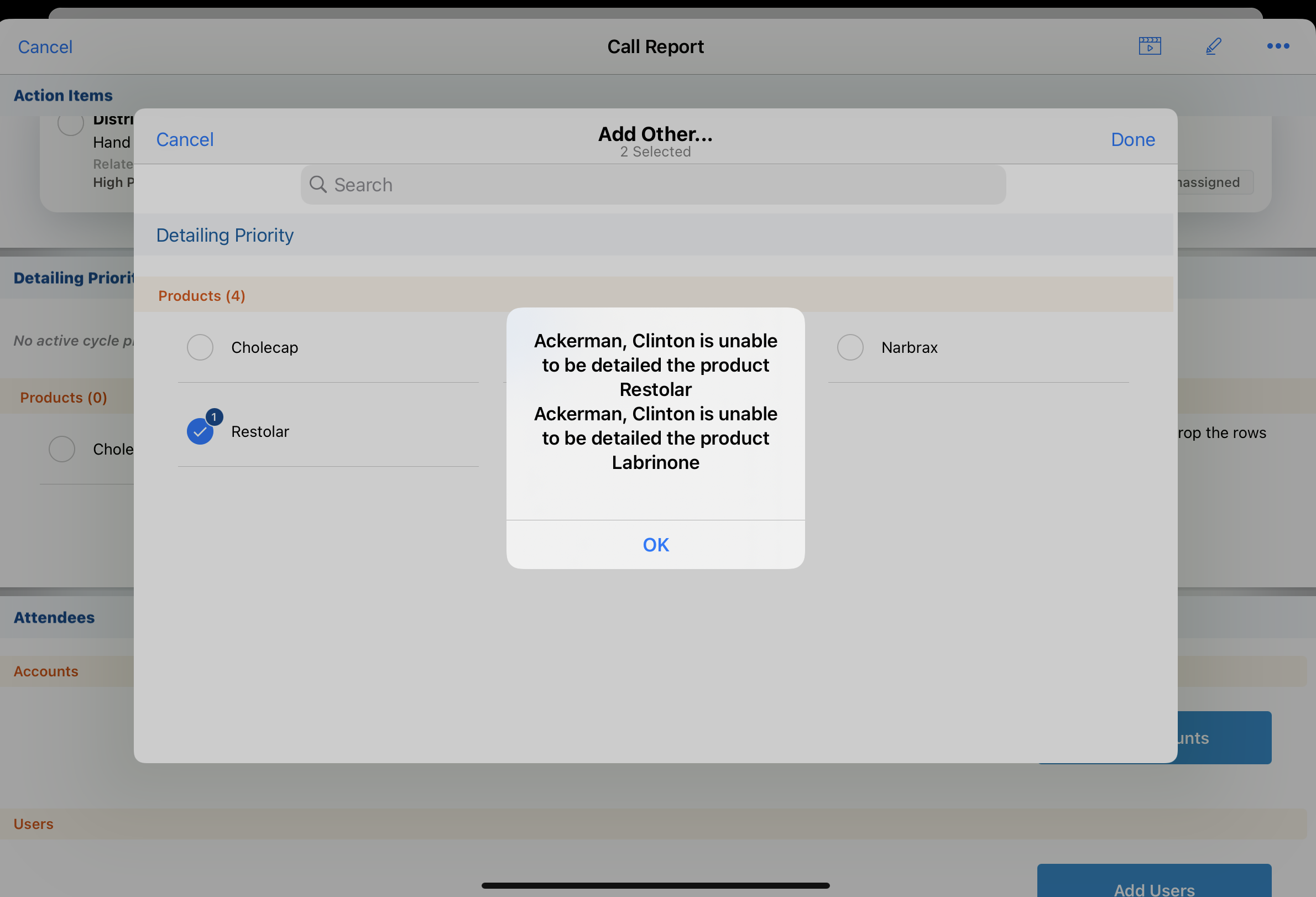 Related Topics