Scheduling and Starting an Engage Meeting
Browser (Classic, Lightning)
CRM Desktop (Windows)
iPad
An Engage meeting can be scheduled against person account calls, classic group calls, or group calls with unique activities directly from the call report. When an Engage meeting is scheduled, the call automatically saves.
If users need to schedule or host more than 100 meetings per day, contact Veeva Support.
Select Schedule Engage Meeting in the More Actions menu to schedule an Engage meeting. Users can schedule a remote meeting if there is at least one CRM user attendee or group call attendee.
An internet connection is required for this feature.
After scheduling the Engage meeting, the following meeting controls display in the header of the call:
Information button – Selecting this button allows the meeting host to update the name of the meeting. The name of the meeting displays when sending an invitation using Approved Email.
Send Invite – Selecting this button displays the participant meeting link for distribution to attendees
Start button – Starts the Engage meeting
Retry button – Displays if the user schedules the Engage meeting without an internet connection or if an error occurs during the scheduling process. Selecting this button retries generating the invitation links.
Users cannot schedule remote meetings for calls associated to events or medical events.
Sending Invitations to an Engage Meeting
Up to 100 unique URLs can be generated for attendees to join an Engage meeting. After scheduling an Engage meeting, hosts can send invitations to the attendees of the Engage meeting directly from the call by selecting the Send Invite button. This enables hosts to easily send invitations as part of the scheduling process.
For CRM Desktop (Windows) users, sending invitations from the high performance call report is not supported.
Hosts can send invitations to attendees using one of the following methods:
Copy and send the Participant URL – Hosts can copy an attendee's unique Participant URL by selecting Copy in the appropriate row. The copied URL can then be emailed to attendees.

Send the invitation via Approved Email – Using the Engage Invitations via Approved Email feature, hosts can select recipients and select an Approved Email template by selecting Send

Online users can also send invitations to all uninvited attendees at once by selecting the Send to Not Invited button or can send invitations to all attendees at once by selecting the Send to All button.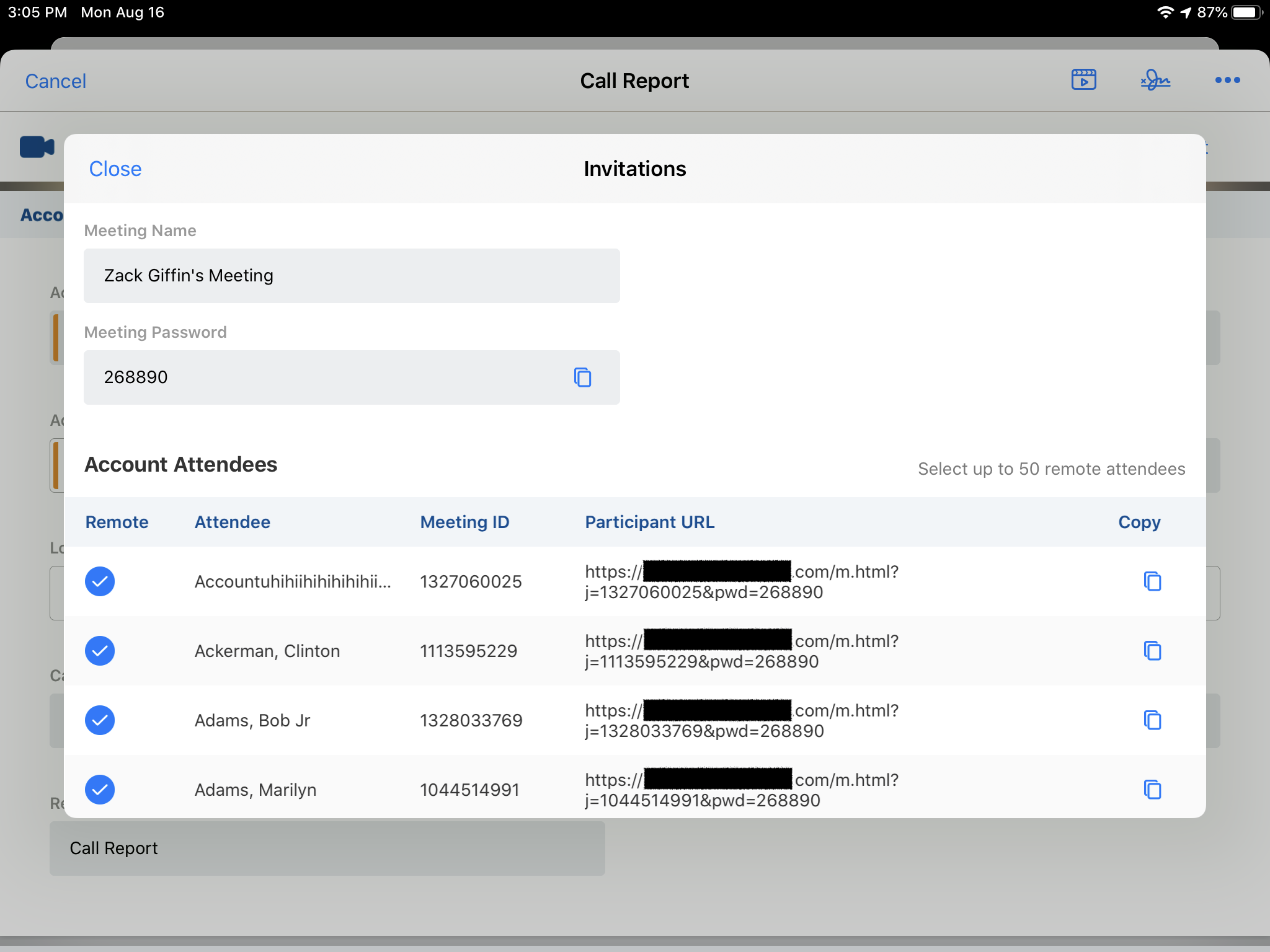 Attendee links expire 30 days after the scheduled time of the meeting.
Starting an Engage Meeting
Hosts start an Engage meeting by navigating to the call and selecting Start.
See Hosting an Engage Meeting on the iPad or Hosting an Engage Meeting Online for more information on hosting Engage meetings.
Related Topics