Monitoring Classic Cycle Plan Progress
Cycle Plans give customers a way to track activity for a team of users. Team members any user who makes calls or details against an account. Team activity is updated in the nightly process. When any Total fields are visible to end users, a toggle button displays at the top of the Cycle Plan Target list, allowing users to switch between viewing their own activity (My Calls) and the team's activity (Total Calls).
A total row at the bottom of the target list summarizes all counts for all Cycle Plan Targets. The Total Row Counts row is dynamically updated as users update their cycle plan with new planned call goals or add or remove targeted accounts. This information allows users to easily identify the total number of accounts they are targeting in their cycle plan as well as the total number of planned calls to meet their goals and objectives.
Users can access cycle plans in four ways: from the Cycle Plan tab online, and from the Account Profile, the Home page, and the Weekly Schedule on iPad.
The Home Page widget label can be customized using the HOME_CYCLE_PLAN_TITLE;;TABLET Veeva Message.
Ensure initial configuration is complete to use this functionality.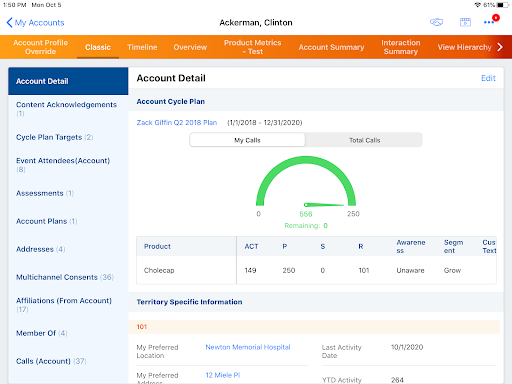 Four columns display for each product in a cycle plan:
ACT - number of calls the user has submitted against the targeted accounts
P - number of planned calls for the user
S - number of calls scheduled in My Schedule for the targeted account
R - number of calls remaining to be scheduled
Additionally, a % column can be configured to display the percentage of attainment toward the scheduled calls. See Configuring the Remaining Call Count for a Classic Cycle Plan for more information.