Using the Medical HCP Page Template
The Medical HCP page template helps content creators to quickly create a MyInsights page that allows end users to view HCP account-level data, including medical activity, discussions, inquiries, and insights, all in one place. Content creators can customize the page template using MyInsights Studio.
For information on using MyInsights Studio page templates and configuring content creators to use page templates, see Using Page Templates.
Who Can Use This Feature?
Platforms – Browser
Licensing – Available to users with MyInsights
Users – End Users
Configuring the Medical HCP Page Template
End users
To configure this feature for end users:
Ensure MyInsights is configured for end users.

Grant the following permissions:

Object

OLS

Record Types

Field

FLS

Call2_vod

R

n/a

Account_vod

CLM_vod

Call_Channel_vod

Call_Date_vod

Call_Datetime_vod

Status_vod

Read

Medical_Discussion_vod

R

n/a

Call_Date_vod

Account_vod

Product_vod

Discussion_vod

Read

Sent_Email_vod

R

n/a

Account_vod

Email_Sent_Date_vod

Approved_Email_Template_vod

Click_Count_vod

Open_Count_vod

Read

HTML_Report_vod

R

Account_Reports_vod
KOL_Profile_vod
Account_Profile_Override_vod

You only need to grant access to the record type for the page you want to deploy.

n/a

n/a

Account

R

n/a

KOL_vod

Phone

Specialty_1_vod

Primary_Parent_vod

Read

Address

R

n/a

Address_line_2_vod

City_vod

State_vod

Zip_vod

Read

TSF_vod

R

n/a

Account_vod

Address_vod

Territory_vod

Read

Call2_Key_Mssage_vod

R

n/a

Call2_vod

Call_Date_vod

Clm_Presentation_vod

Read

Approved_Document_vod

R

n/a

n/a

n/a

Medical_Inquiry_vod

R

n/a

Account_vod

Status_vod

Product

Inquiry_Text

Read

Medical_Insight_vod

R

n/a

Date_vod

Account_vod

Summary_vod

Status_vod

Read

CLM_Presentation_vod

R

n/a

n/a

n/a
Using the Medical HCP Page Template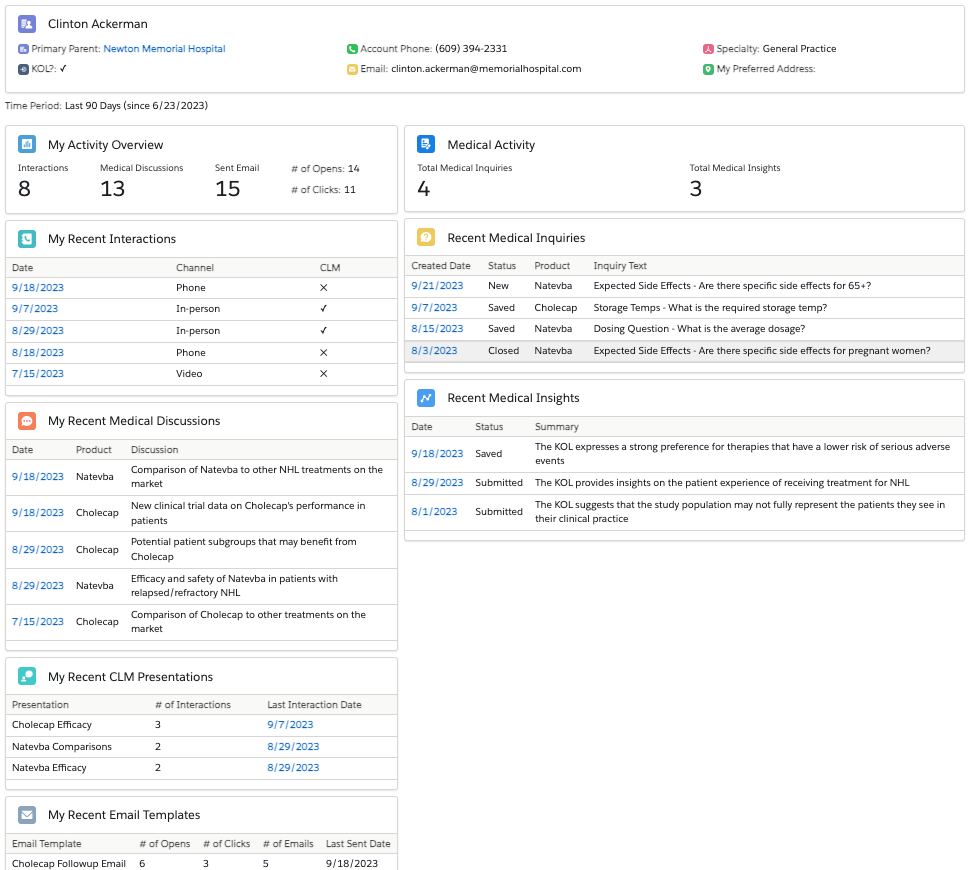 Before any customization, end users can view information in the following sections for the current HCP:
Time Period Specification - When the activity starts (within the last 90 days)
Account Overview - Most important information, including Primary Parent, whether KOL, Phone, Email, Specialty, and Preferred Address
My Activity Overview:
My Interactions - Count of submitted Calls created
My Medical Discussions - Count of Medical Discussions created
My Sent Emails - Count of Sent Emails sent
Total # of Opens - Sum of Sent Emails' # of Opens
Total # of Clicks - Sum of Sent Emails' # of Clicks
Medical Activity:
Medical Inquiries - Count of Medical Inquiries created
Medical Insights - Count of Medical Insights
My Recent Interactions - Five most recent Calls created, sorted by call date, from most recent to least recent
My Recent Medical Discussions - Five most recent Medical Discussions created, sorted by call date, from most recent to least recent
My Recent CLM Presentations - Five most recent CLM Presentations created, sorted by related call date
Recent Medical Inquiries -Five most recent Medical Inquiries, sorted by created date, from most recent to least recent
Recent Medical Insights - Five most recent Medical Insights sorted by created date, from most recent to least recent
My Recent Email Templates - Five most recent Approved Documents sorted by sent date from related Sent Email records, sorted most recent to least recent
Related Links