Capturing Remote Signatures for Sample Opt-In
For convenience during remote meetings, and to accommodate any restrictions on in-person meetings, users can capture signatures for sample opt-in using Links or QR codes. Capturing sample opt-in signatures enables users to remotely continue sample disbursements, even when they do not have face-to-face interactions with HCPs.
For example, Sarah Jones captures a sample opt-in signature for Dr. Ackerman once a year to allow him to continue receiving samples. To capture his signature from their remote meeting, Sarah sends him a request for sample opt-in using EWS Links. Dr. Ackerman provides his signature remotely, and Sarah continues to disburse samples to him without interruption.
Links are single-use. A Request Expired error message displays to accounts if they attempt to open the same link twice. The Request Expired error message also displays if users cancel a signature request before the account opens the link.
Prerequisites
Configuring Remote Signatures for Sample Opt-In
To configure this feature, grant admins and end users Edit FLS permission to the following fields on the Multichannel_Consent_vod object:
Signature_Captured_Share_Link_vod
Signature_Captured_QR_Code_vod
Capturing Remote Signatures for Sample Opt-In
To capture a remote signature for sample opt-in:
Select the More Actions button on the Account Detail page.


Select Sample Opt In.
Alternatively, select the Sample Opt-In warning displayed on the call report
Select the appropriate signature method from the Signature Set Up screen.


Select Next.
Follow the prompts to complete Signature Set Up and share the link or QR code with the HCP.
After selecting the appropriate option, end users must remain signed into Veeva CRM until HCPs provide their signature.
Providing Remote Signatures for Sample Opt-In
HCPs receive the link from the application chosen by the sender, or by scanning the QR code with their device. To provide a signature, HCPs:
Select the link or scan the QR code to display the signature capture screen in an internet browser. (For more information on using QR code signature capture, seeCapturing Remote Signatures for Sampling with QR Codes.)


Review the opt-in details, consent message, and disclaimer.
Sign in the Signature box.
Select Accept. The signature page is locked, all fields are stamped in the audit trail, and the signature is sent to the end user for review. A confirmation message displays to the end user:


Reviewing Remote Signatures for Sample Opt-In
After HCPs submit their signatures, end users review the signature and either accept the signature or request the HCP sign again. To accept the signature, select the Accept button.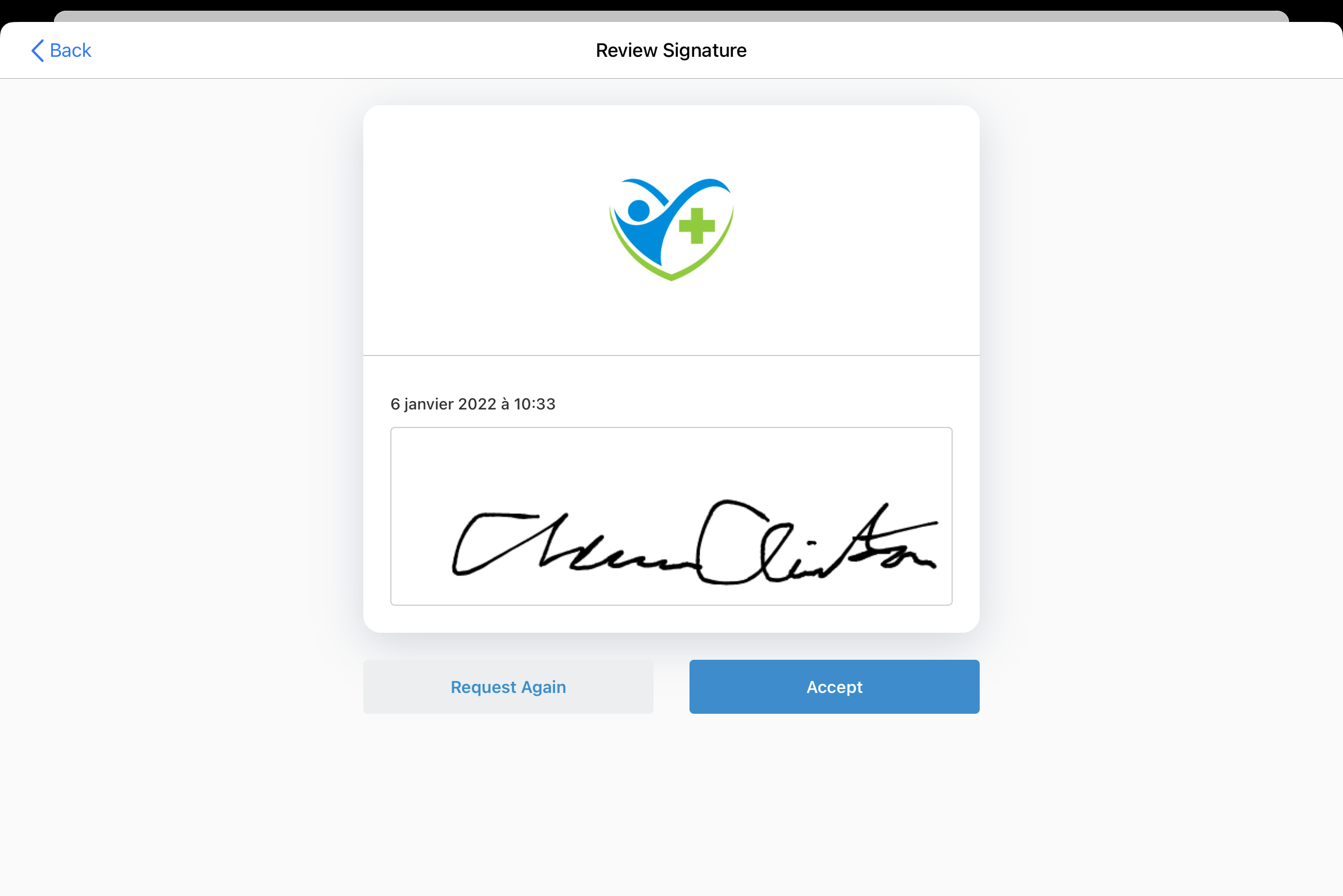 Accepting the signature generates a new Multichannel_Consent_vod record with the appropriate values. Depending on the signature capture method, the Signature_Captured_Share_Link_vod or Signature_Captured_QR_Code_vod check box is automatically selected on the Multichannel_Consent_vod record.
Related Topics