Using Presentation Attributes to Filter Presentations
CRM Desktop (Mac, Windows)
iPad
iPhone
Windows Tablet
Users with a larger media library can filter using presentation attributes to reduce the number of presentations that display. These filters can be used in conjunction with existing labels and directories. Filters can also be applied to search results to narrow the result list to find the correct presentation.
Ensure initial configuration is complete to use this functionality.
For example, Larry Lakes is an MSL with 1,000 CLM presentations in his media library. He wants to favorite a specific presentation about Cholecap and Restolar. Larry navigates to his media library, selects the filter button, and selects the Cholecap and Restolar products. After selecting Apply, a list of ten presentations displays. He quickly finds the one he needs and favorites the presentation.
Considerations
Admins can map additional fields from Vault to CRM and use them as filters. See Mapping Fields from Vault for more information.
When filters are configured, labels and directories are nested in the Labels option
Filtering Presentations
If multiple field filters are applied, only presentations satisfying all of the fields display. If multiple values within a single field filter are applied, presentations satisfying any of the selected values display.
The following field types are supported:
Check box
Email
Lookup
Number
Percent
Phone
Picklist (single and multi-select)
Text
TextArea
Time
The available values displayed in a filter are dependent on previously selected filters, labels, or directories.
When filters are configured, labels and directories are nested in the Labels option.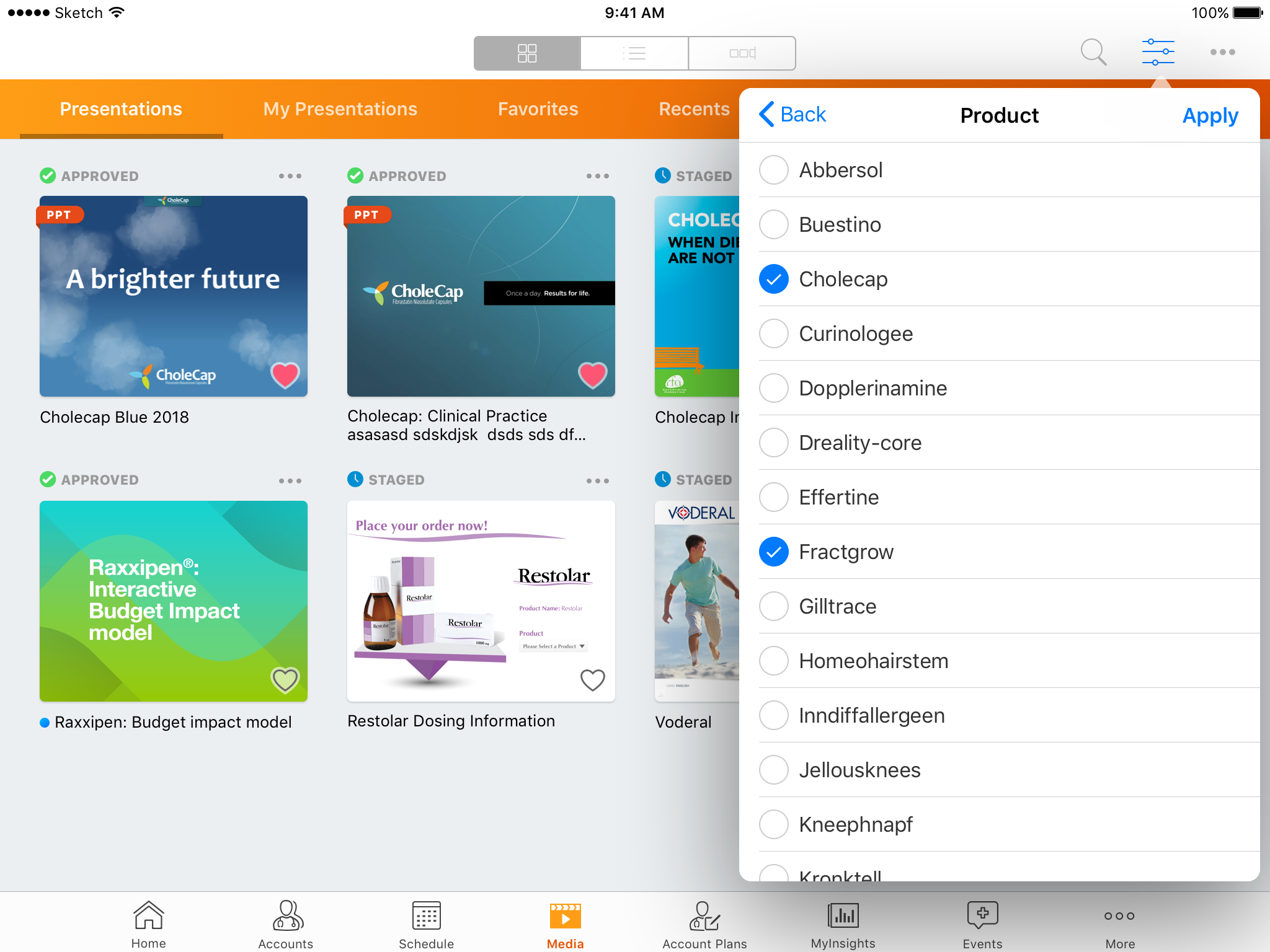 Users must select Apply to filter the presentations. Users can select Reset to clear all filters, including labels, directories, and fields.
Presentations with empty field values are grouped in the filter Undefined at the bottom of the list of filters.
When searching for CLM presentations, if the entire search term matches exactly to any of the configured filters in the CLM_FILTER_FIELDS Veeva Message, then the search results are filtered by those matches. Results are sorted alphabetically by CLM Presentation name. See Searching the Media Library for more information.