Creating Sample Transactions on Sign Save
Browser (Classic)
CRM Desktop ( Mac, Windows)
iPad
iPhone
Windows Tablet
Creating sample transactions on sign save increases the accuracy of system-generated on-hand inventory totals and aids in sample reconciliation. Sample transaction records are generated and sample-related fields and sections are locked after users save the call report. Samples on these signed, but unsubmitted, call reports are still counted as disbursed, and therefore no longer part of the user's on-hand inventory. For more information on inventory totals and sample reconciliation, see Samples Inventories.
For example, Sarah Jones disburses a sample of Cholecap to Dr. Ackerman and captures his signature before saving the call report. All sample-related fields are locked and one sample of Cholecap is deducted from Sarah's inventory total. When Sarah gets back to the office, she finishes filling in other call information and then submits the call report.
Configuring Samples on Sign Save
Ensure initial configuration is complete before enabling this functionality. Select the ENABLE_SAMPLES_ON_SIGN_SAVE Veeva Setting check box.
Using Samples on Sign Save
When users add samples to a call report, capture an electronic signature, and then save the call report, the following account information and sample/BRC related fields become read-only:
Account
Address
Samples
BRCs/sample requests
Call Date
Signature Date (if captured)
Sample Card (if populated)
Sample Send Card (if populated)
For promotional items, quantities and recipients are still editable after the user captures a signature and saves the call report.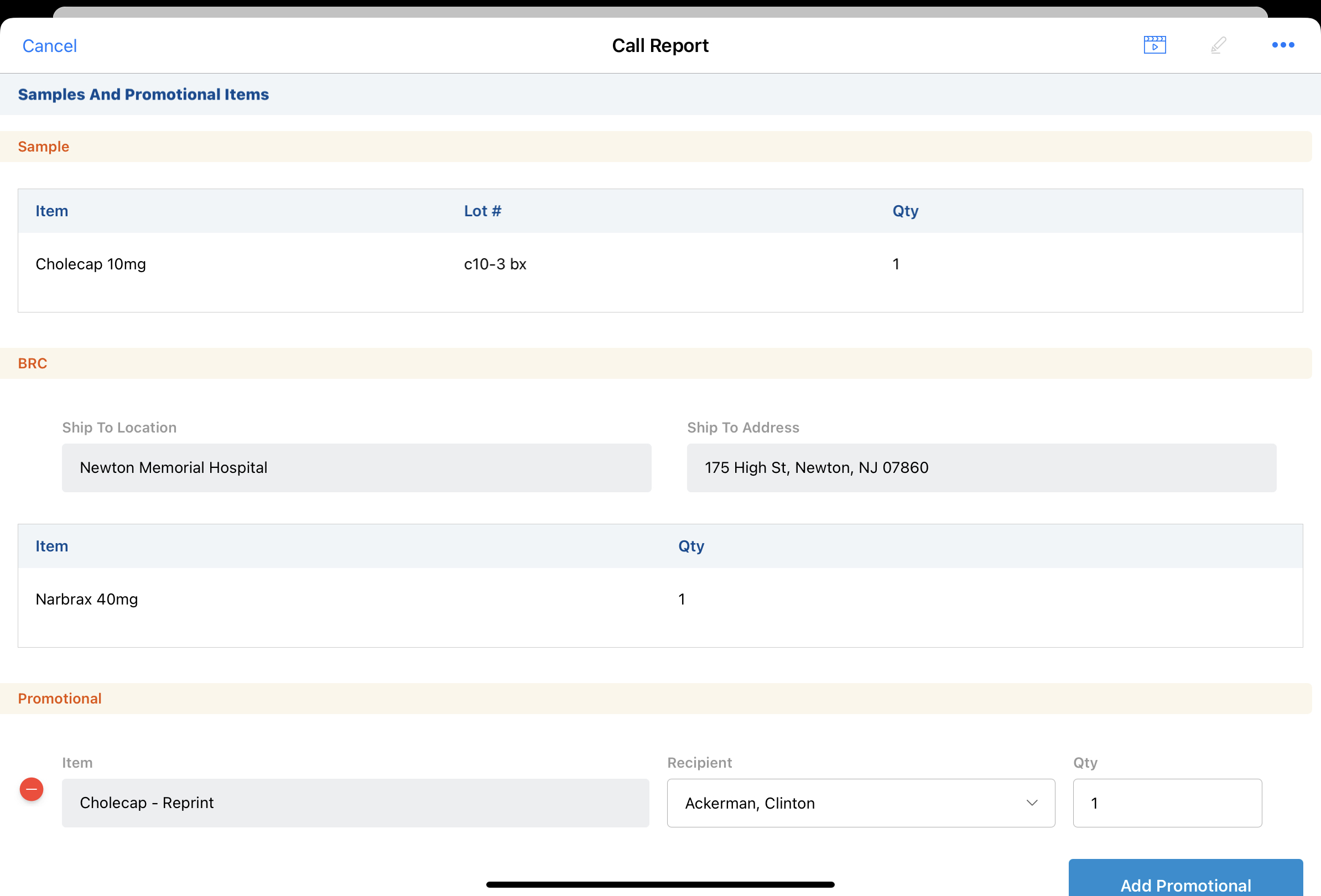 Related Topics