Managing Call Cycles
Browser (Classic)
iPad
Windows Tablet
Call cycles are repeatable sets of calls that can be applied to a user's daily or weekly schedule. This streamlines call scheduling for users who have recurring patterns of calls.
For example, Sarah Jones calls regularly on Dr. Ackerman, Dr. Beacher, Dr. Adams, and Dr. Andrews. She applies an existing call cycle for these HCPs, which creates all her upcoming calls at once.
Call cycles are stored in the Call_Cycle_Entry_vod object, and each row corresponds to a single call with a start time and a week index that indicates which call cycle week the call falls into. There is a maximum of 12 call cycle weeks.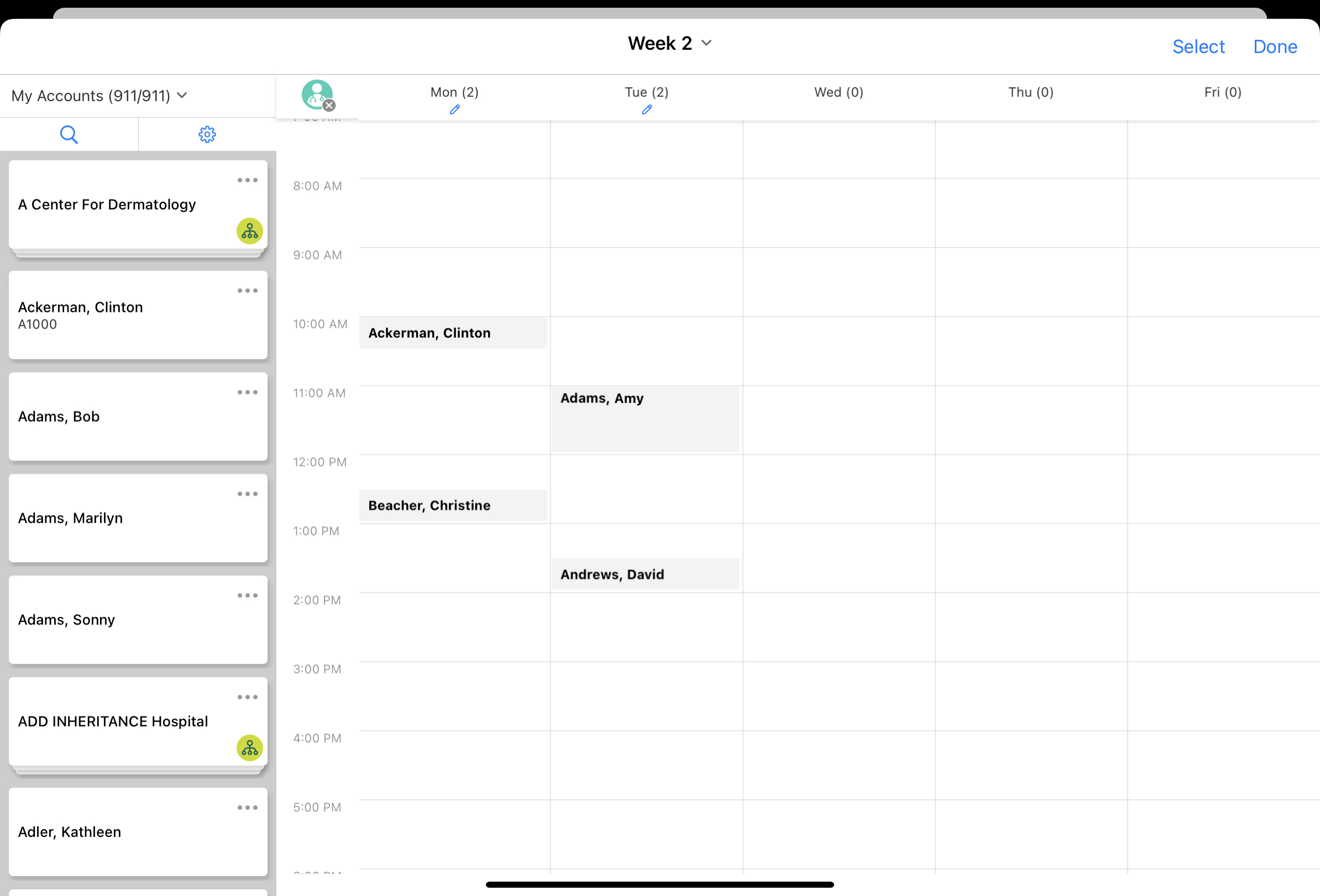 Configuring Call Cycles
Grant users CRUD permission on the Call_Cycle_Entry_vod object.
Grant users edit FLS permission to the Call_Datetime_vod field on the Call2_vod object. This is required because Copy to Call Cycle supports all-day calls only when the Call_Datetime_vod field is populated.
Add the Call_Cycle_Entry_vod__c VMOC for offline devices.
Enable the ENABLE_COPY_TO_CALL_CYCLE_BUTTON_vod Veeva Setting.
Using Call Cycles
Call cycles can be created in two ways: manually or by copying weekly activities to a call cycle week. To create call cycles manually, select the Call Cycle button in My Schedule to open the Call Cycle view, which has a similar look and feel to the week view.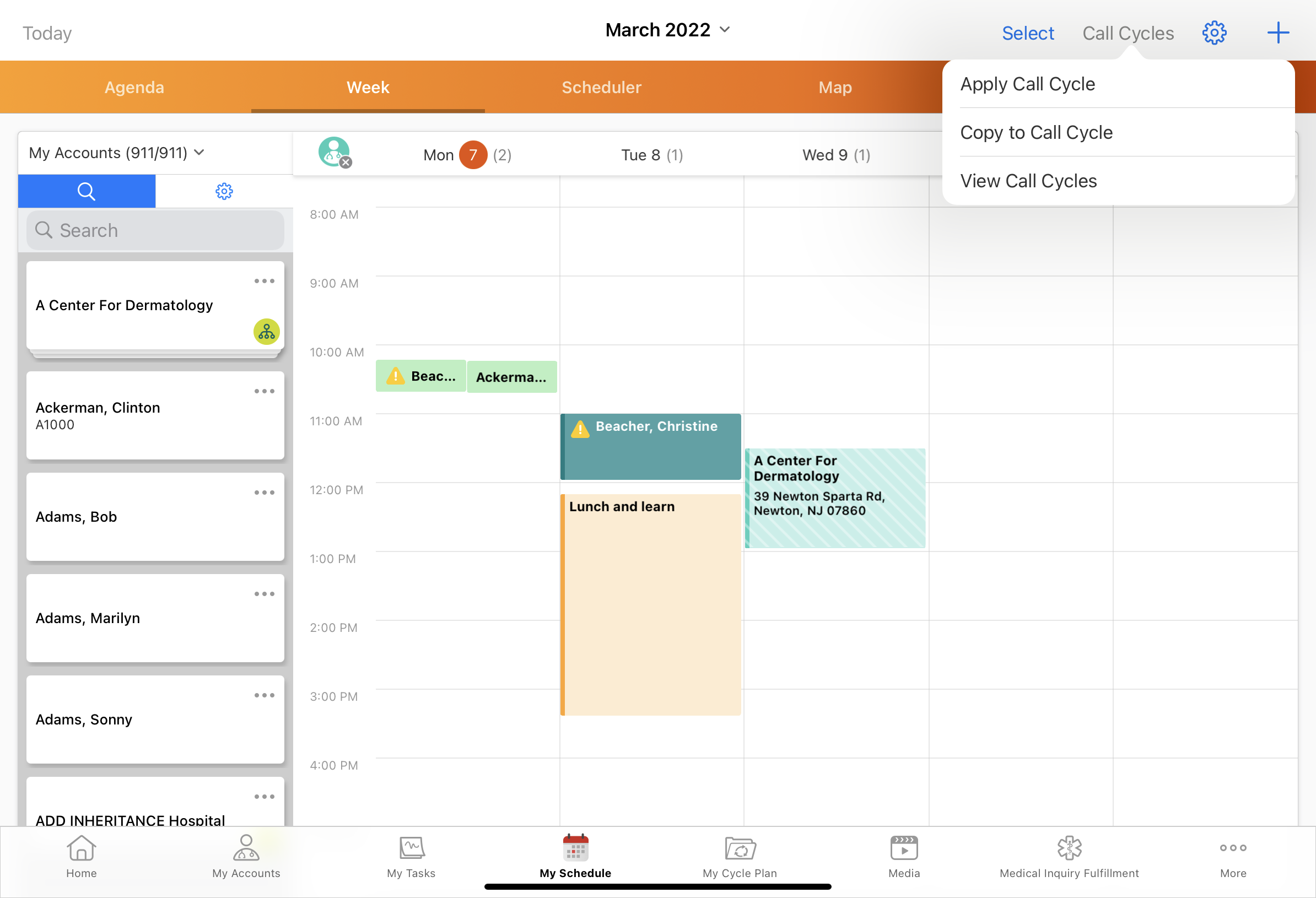 Use time slot call creation or drag and drop from the call scheduler to place calls on the chosen call cycle week. To delete multiple calls at once in Call Cycle View, use the Select button.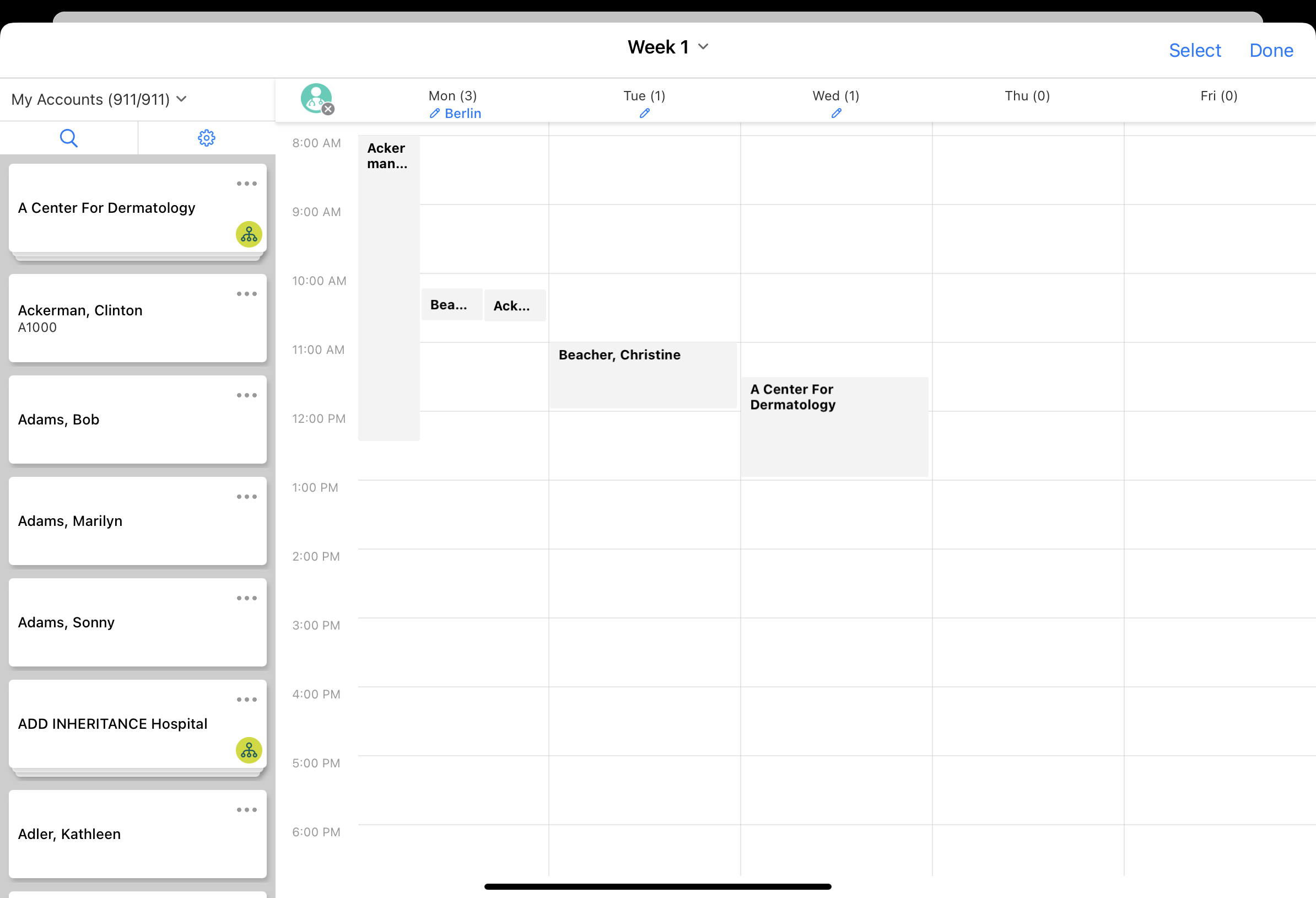 Select the appropriate entries, then select Delete. To exit Delete mode and return to the Call Cycle View, select Cancel.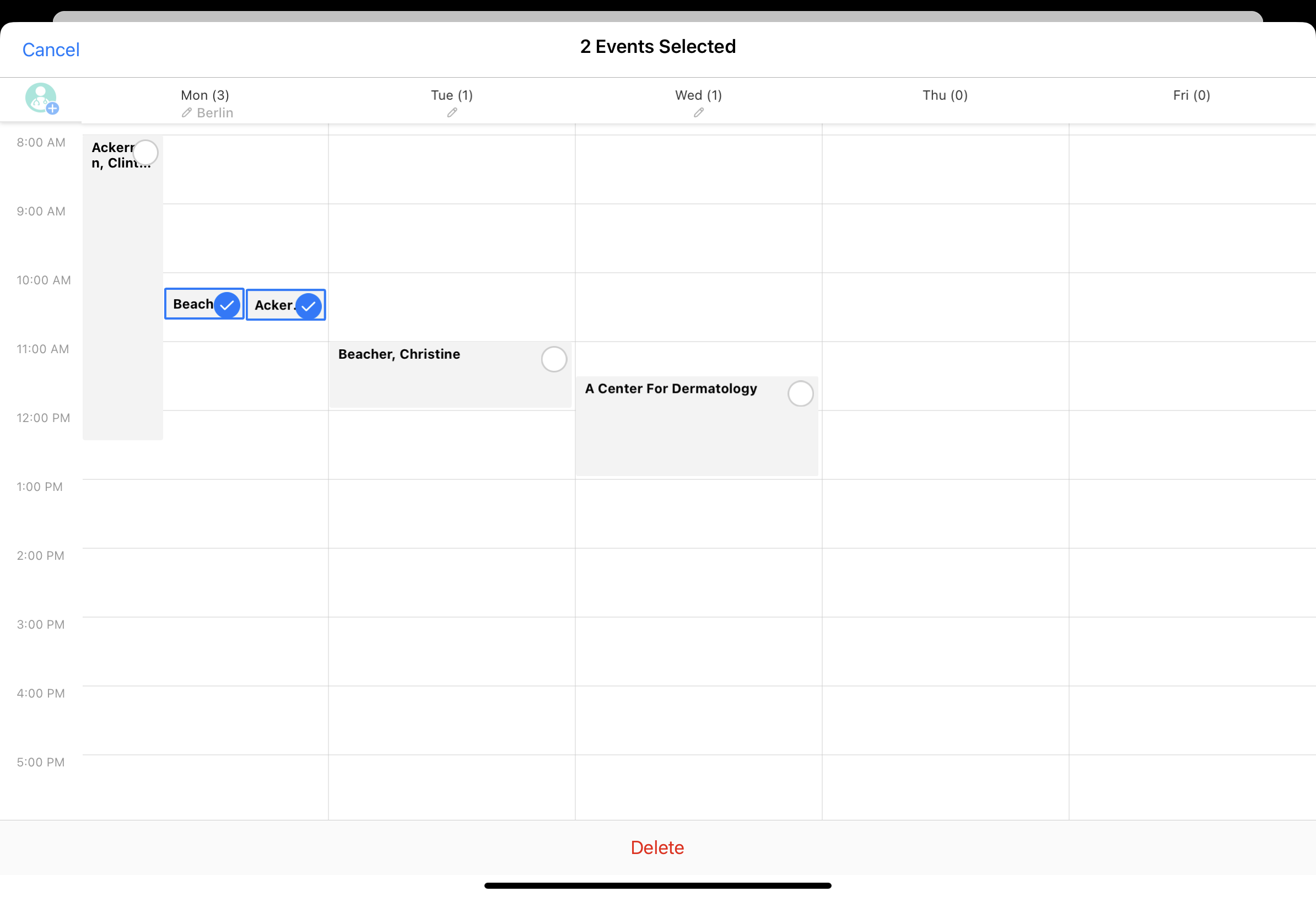 To copy weekly calls to a cycle in Windows Tablet, select the Copy button in the week view, which prompts the user to choose a call cycle week to apply. To copy weekly calls to a cycle on the iPad, select the Copy Call Cycle button, which prompts the user to choose a call cycle week to apply.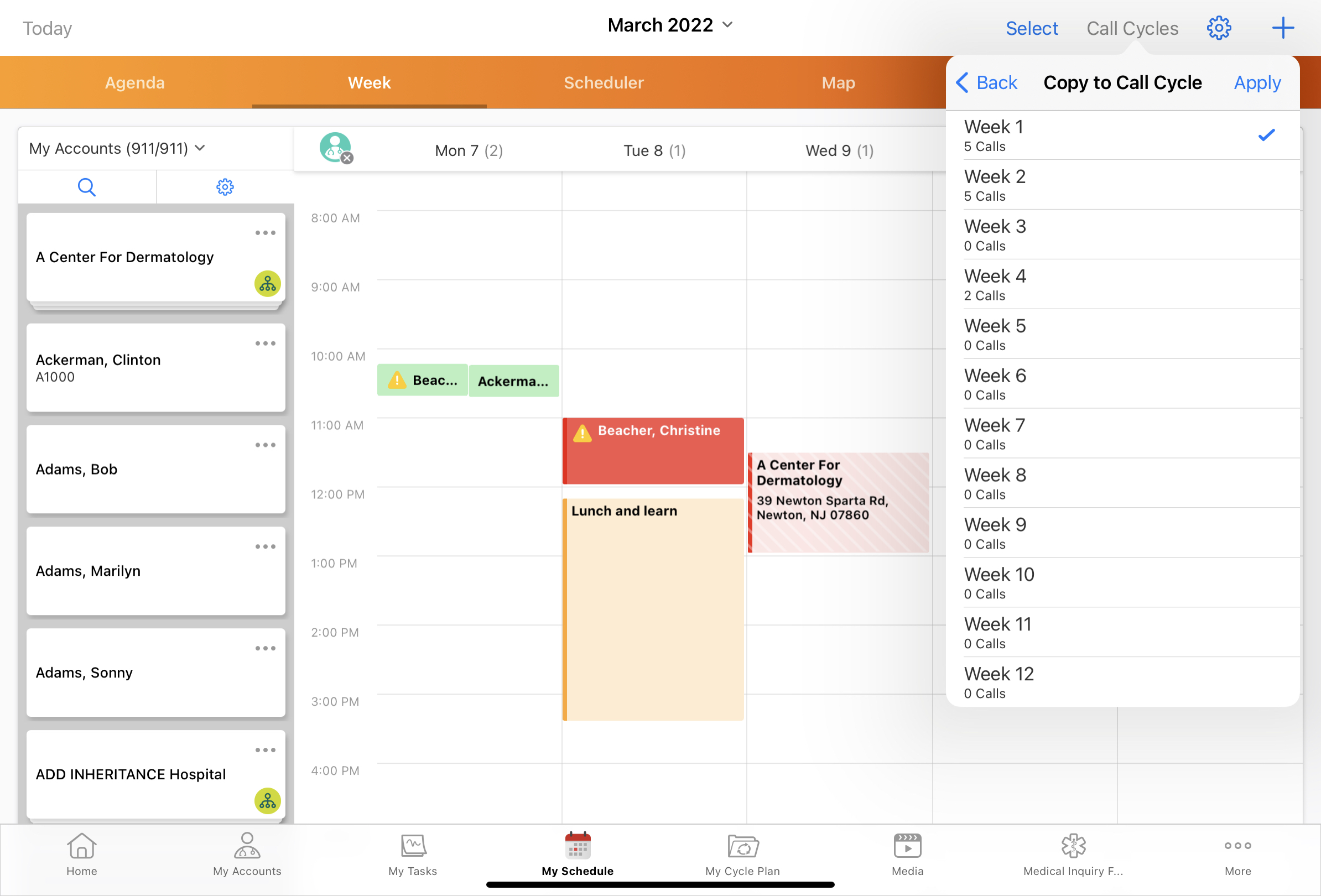 Users can add a label to each day within a call cycle week. To add a label on iPad, select the pencil icon. To add a label Online, type a name in the Add Label field. Labels better identify cycles when applying a call cycle to a schedule.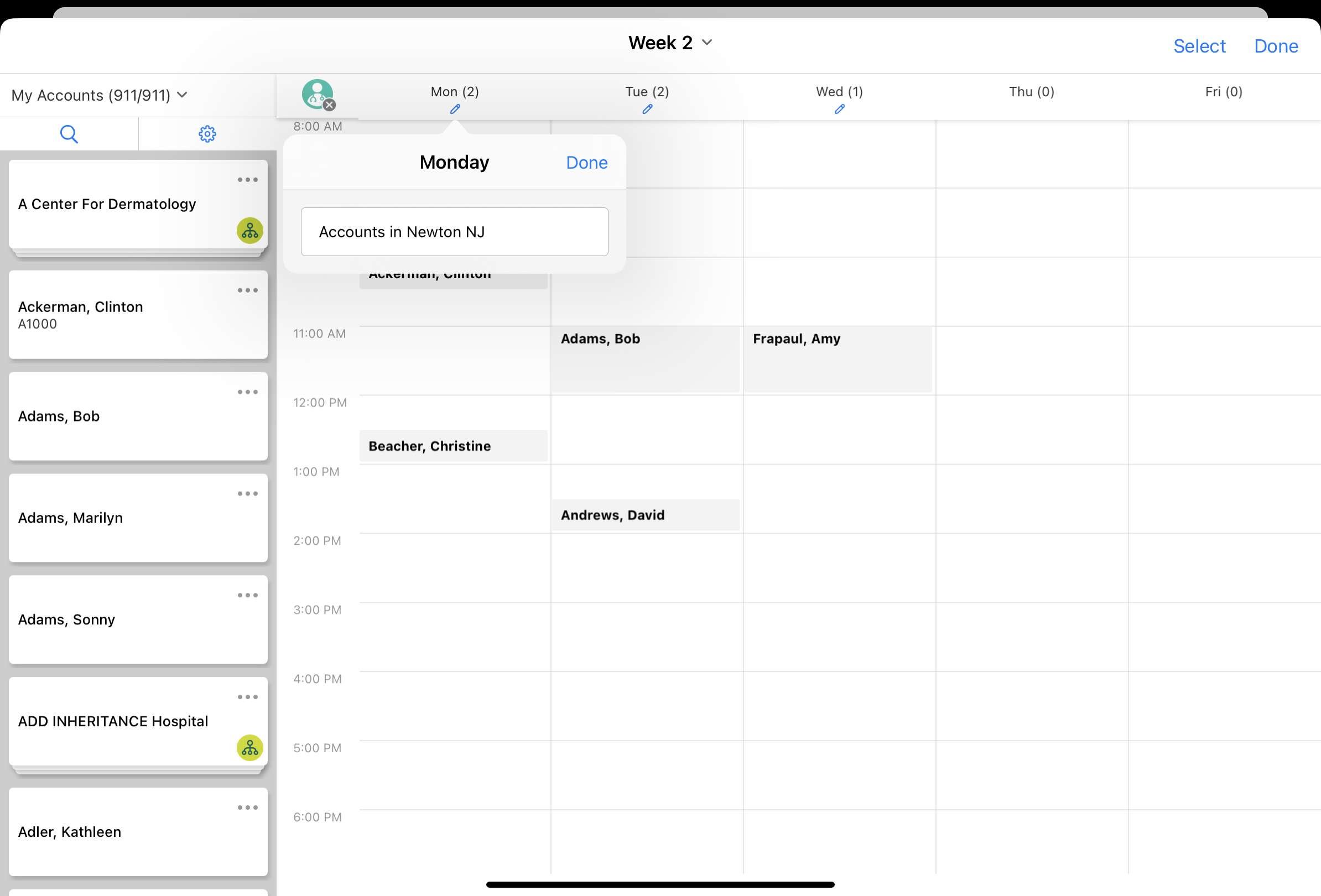 To apply a call cycle, select the + button to search for a day name, cycle label, or week index in the account search window on the calendar. In addition, the applicable call cycles display by default if the user clicks in a time slot or date on the week or month views, respectively. Selecting a week applies all the calls from each day in that week. Selecting a single call cycle day only applies the calls for that day.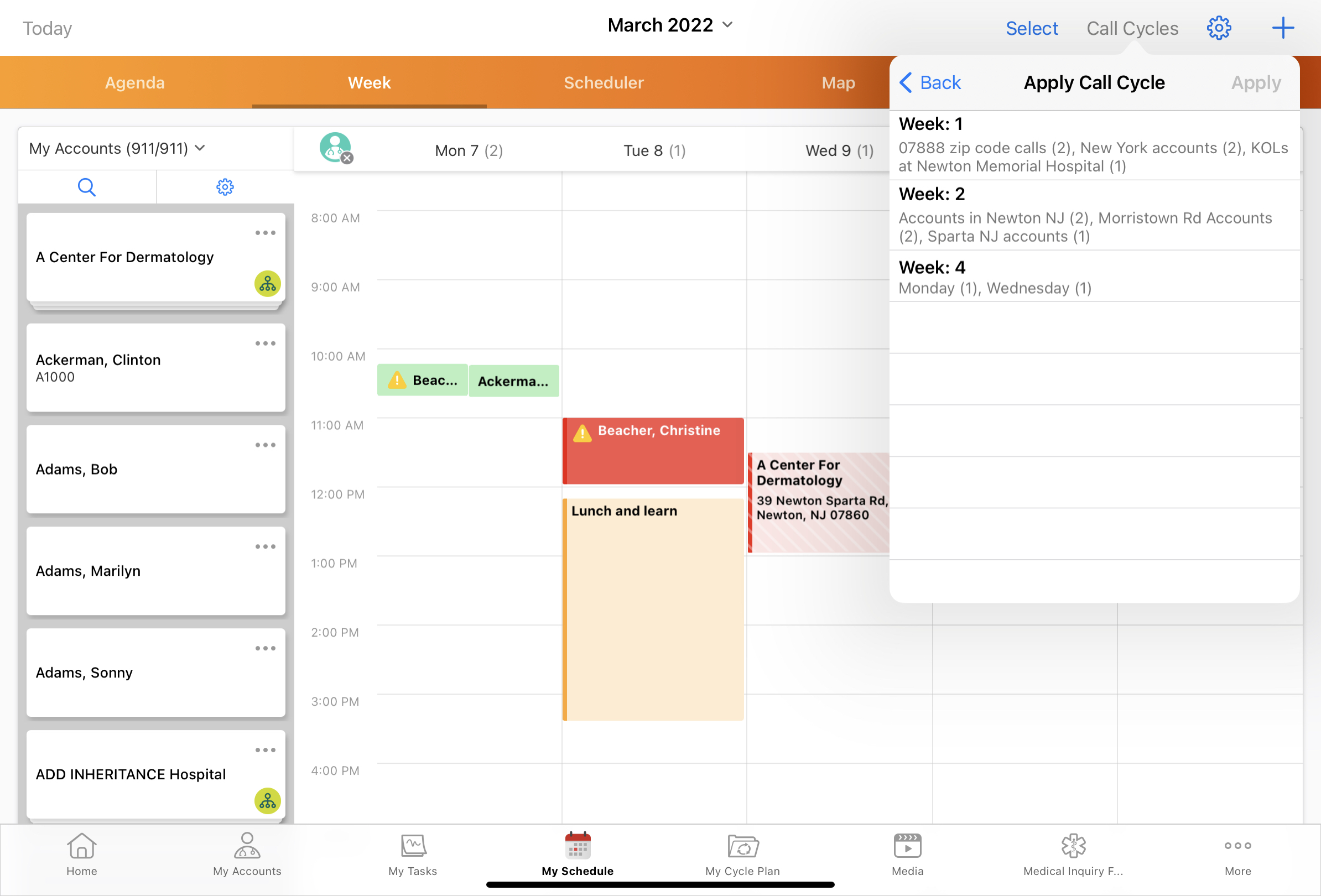 iPad call cycles are accessed through a separate button above the time labels in the week view and call scheduler. Call cycles can only be applied weekly on iPad.
On Windows Tablet, the call cycles button displays in the bottom navigation bar. Call cycles are applied to the schedule by selecting a time slot to enter the New Call dialog, then toggling from Accounts to Call Cycle Entries. Call cycles can be applied both weekly and daily.
Call Cycle for Child Account
Users can create Call Cycles for Child Accounts, or HCPs.
Calls are created against an account at an organization rather than against a traditional account. The association between each HCP and HCO is considered a separate account. When this feature is enabled, the Scheduler displays based on account locations rather than on accounts.
For example, Sarah Jones is aligned with Dr. Clinton Ackerman, who works at both Memorial Hospital and Valley Clinic. Sarah plans to visit Dr. Ackerman regularly at Valley Clinic as part of her route in the area. When creating a Call Cycle, Sarah selects the HCO and the HCP and adds him to her route.
Configuring Call Cycles for Child Accounts
To enable this feature:
1. Ensure the Call Cycles and Child Account Support features are enabled.
2. Grant FLS permission to the Child_Account_vod field on the Call_Cycle_Entry_vod object.
3. Update the Call_Cycle_Entry_vod VMOC Where clause to the following:
WHERE (Account_vod__r.Name != NULL OR Child_Account_vod__r.Name != NULL)
Using Call Cycles for Child Accounts
From the Scheduler's Cycle tab, users can view All Locations from the Account Views drop-down list when creating a Call Cycle. Child Account records can be dragged and dropped onto a Call Cycle.
Users can also add Calls to an existing Call Cycle by selecting the Copy to Call Cycle button and indicating which Call Cycle the Call should be added to.
Note: Both the Account_vod and Location_vod fields on Calls scheduled from a Child Account are read only.