Using the MCCP Page Template (Available Dec 7, 2023)
The MCCP page template helps content creators quickly create a MyInsights page that allows end users to view MCCP territory data all in one place. Content creators can customize the page template using MyInsights Studio.
For information on using MyInsights Studio page templates and configuration for content creators to use page templates, see Using Page Templates.
Configuring the MCCP Page Template
To configure this feature for end users:
Ensure MyInsights is configured for end users.
Grant the following permissions:


Object

OLS

Record Types

Field

FLS

MC Cycle

R

n/a

Under_Reached_Threshold_vod
Over_Reached_Threshold_vod

Read

MC Cycle Plan

R

n/a

Name
Cycle_vod
Percent_Cycle_Completed_vod
Start_Date_vod
End_Date_vod
Days_Total_vod
Days_Remaining_vod

Read

MC Cycle Plan Channel

R

n/a

Channel_vod
Channel_Attainment_vod
Channel_Activity_Actual_vod
Channel_Activity_Goal_vod
Channel_Activity_Remaining_vod
Last_Activity_Date_vod

Read

MC Cycle Plan Product

R

n/a

Product_Name_vod
Product_Attainment_vod
Product_Actual_Activity_vod
Product_Activity_Goal_vod
Product_Activity_Remaining_vod
Last_Activity_Date_vod

Read

MC Cycle Plan Summary

R

n/a

Attainment_vod
Cycle_Plan_vod
Summary_For_vod

Read

MC Cycle Plan Target

R

n/a

Read

HTML_Report_vod

R

Territory InsightsTerritory Insights Default

You only need to grant access to the record type for the report you want to deploy.

n/a

n/a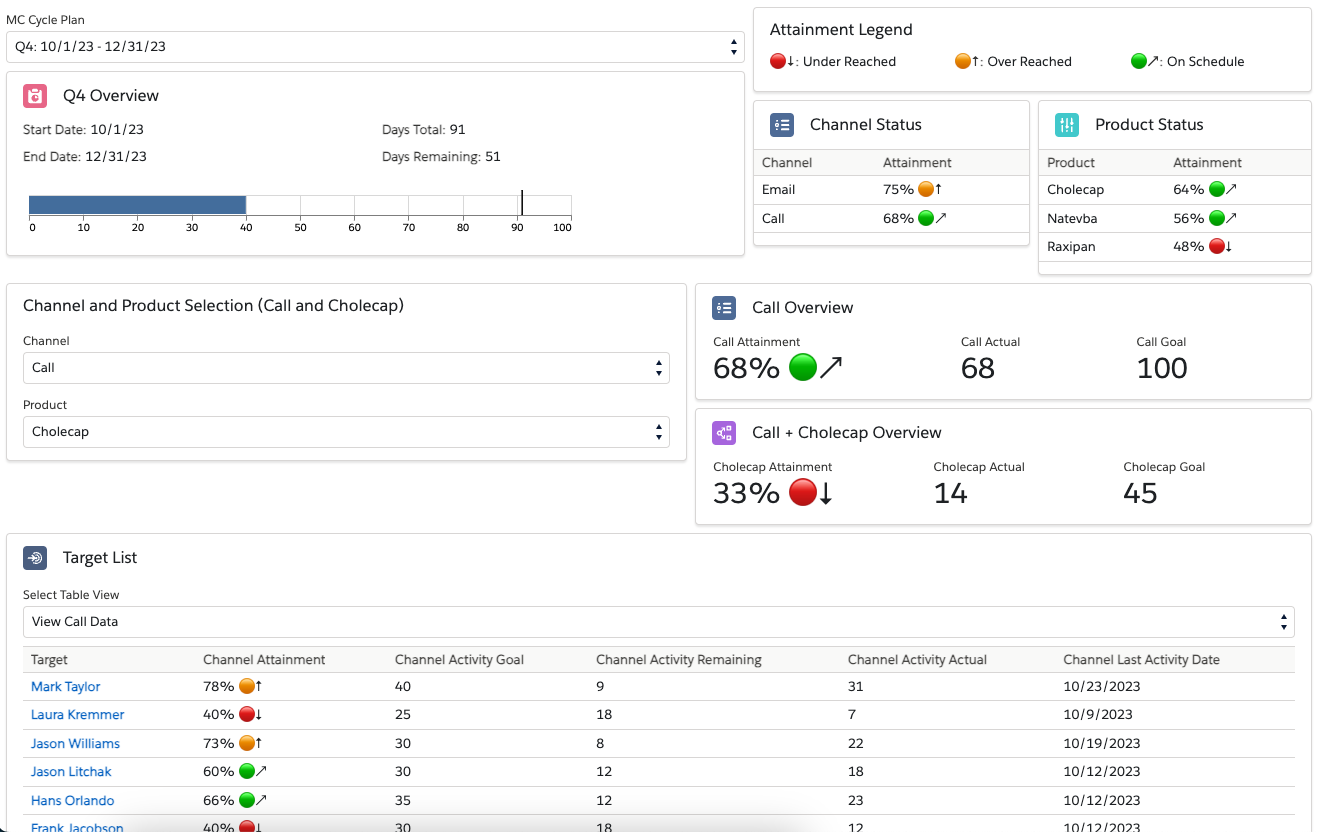 Before any customization, users can view information in the following sections:
MC Cycle Plan Filter - users can select from Multichannel Cycle Plans they have access to. Options are sorted by Start Date in descending order.
Attainment Legend
↗ - On Schedule
↓ - Under Reached
↑ - Over Reached
MCCP Overview - displays overall cycle plan information including attainment progress
Channel Status - plan attainment by channel
Product Status - plan attainment by product
Channel and Product Selection:
Channel Filter - users can filter between all Channels that exist in the cycle plan
Product Filter - users can filter between all Products that exist in the selected channel
Selected Channel Overview
Selected Channel + Product Overview
Target List - select channel or channel plus product
Account Name (deep linked to account)
Channel or Channel + Product Attainment
Channel Activity Goal
Channel Activity Remaining
Channel Activity Actual
Channel Last Activity Date
Related Links