Inviting Speakers to Sign up for the Speaker Portal
Before speakers can sign up for the Speaker Portal, they must receive an invitation via the speaker profile in CRM.
CRM users can invite speakers via one of the following methods:
Data-loading EM_Speaker_vod records with the Send_Speaker_Registration_Email_vod populated as True

Selecting the Send Speaker Portal Registration Email button on the appropriate EM_Speaker_vod record
Once the registration email is sent, the EM_Speaker_vod record's Portal_Access_vod field automatically updated to Enabled and the Portal_Registration_Email_Date_vod field populates with the date and time that the invitation was sent.
Signing up for the Speaker Portal
Event Speakers can sign up for the Speaker Portal via the invitation sent to them by CRM users.

Select the link in the invitation to display the Speaker Portal registration page.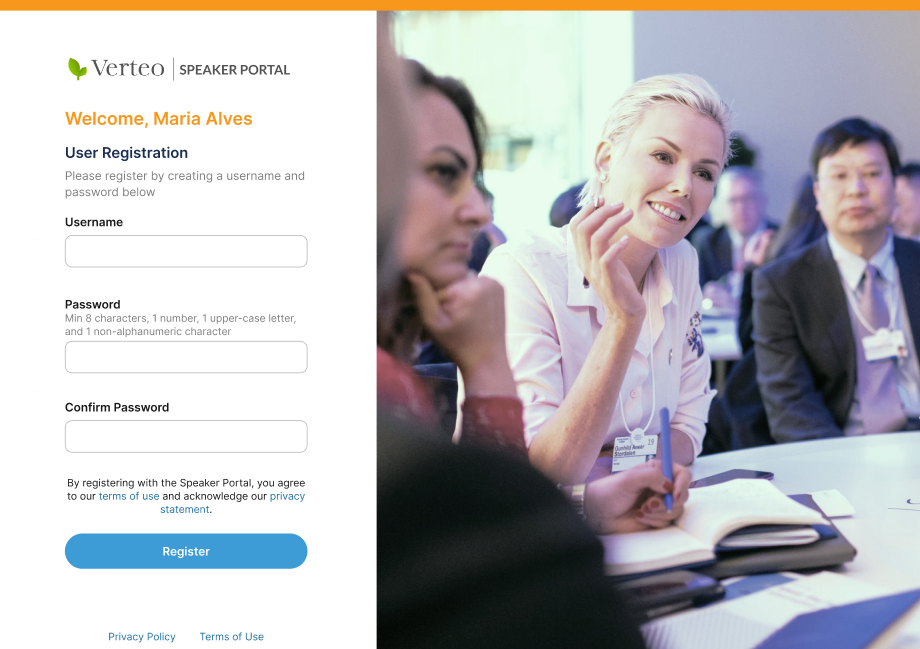 Speakers must enter a unique username and a password meeting all of the displayed requirements before they are able to successfully register.
Once the speaker successfully registers, the Portal_Account_Creation_Date_vod field on their EM_Speaker_vod record in CRM automatically updates with the date the Speaker Portal account was created.
Additional registration emails cannot be sent once the Speaker's account is created, even if the Send Registration button is selected or if data-loading inadvertently attempts to send an invitation.
Speakers are able to log into the portal at any time via the URL in the welcome email.