Stamping the Signature Location on the Call Report
CRM Desktop (Mac (Sandbox Beta),Windows)
iPad
Windows Tablet
When users capture an electronic signature, the device's GPS location can be stamped on the call report along with the current status of Location Services. GPS location stamping provides a precise way to record where a signature was captured, which helps to confirm that the user actually captured a signature and completed the call as described on the call report. For example, Sarah Jones records a call for Dr. Ackerman, during which she details Cholecap and disburses a 10 mg sample of Cholecap to him. When she captures Dr. Ackerman's signature for the sample disbursement, the current GPS location of Sarah's device and the status of Location Services are automatically stamped on the call report record.
In order for the GPS location to stamp on the call report, the user must have an active network connection and Location Services must be turned on in the device settings. Users should be trained to keep Location Services enabled on their devices, as this cannot be controlled through a configuration profile.
Configuring Signature Location Stamping
To enable stamping the signature location on the call report record:
Select the check box for the Enable Location Services Veeva setting.
Grant end users the following permissions:

Object

OLS

Record Types

Fields

FLS

Call2_vod
n/a
n/a

Signature_Location_Longitude_vod
Signature_Location_Latitude_vod
Location_Services_Status_vod

Edit

These fields do not need to be placed on the page layout of the call report.
Using Signature Location Stamping
When signature location stamping is enabled, users are prompted to allow Veeva CRM to use their current location the next time they log into the Veeva app.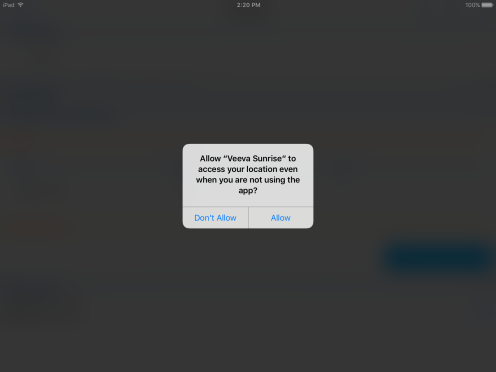 Veeva CRM displays in the Location Services section of the Settings app where the user can determine the level of access. Users must enable Veeva CRM to access their Precise Location while using the app.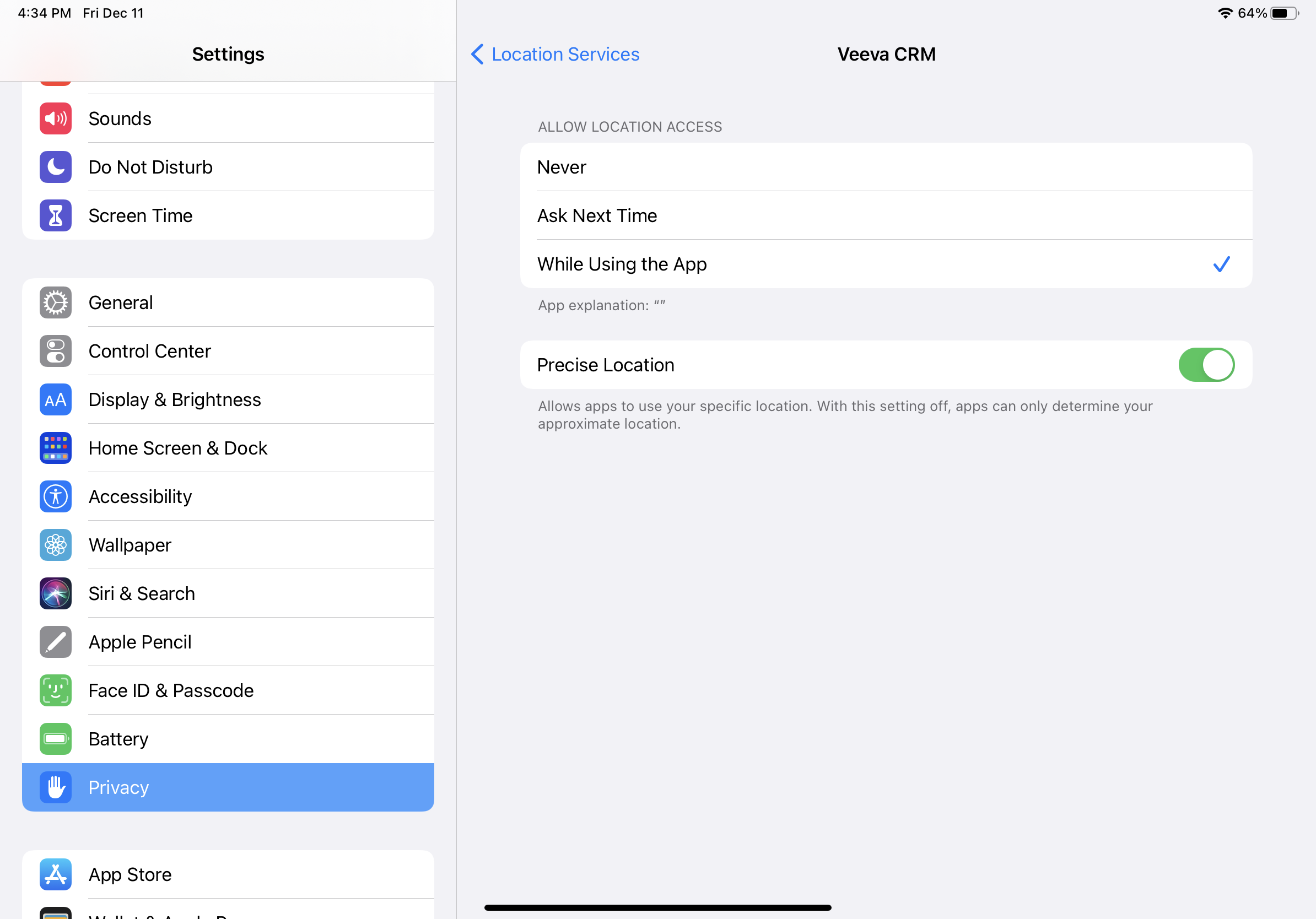 If the signature location is not successfully recorded, administrators can view the status of Location Services on the call record--for example, whether Location Services are enabled or disabled on users' devices, or if a network connection was available at the time the signature was captured.