Modifying the Signature Disclaimer
CRM Desktop (Mac (Sandbox Beta),Windows)
iPad
iPhone
Windows Tablet
The signature page displays a disclaimer to the signing account. This content is often recommended or required by a medical or pharmaceutical provider's legal department. Administrators can modify disclaimer text to add custom notices that specifically meet their organizations' needs, and change the length, placement, and size of the disclaimer on the signature page. These customizations are applied to the call report signature pages for end users.
For example, Sarah Jones captures Dr. Ackerman's signature from the call report. On the signature page, the disclaimer text specified by Sarah's organization automatically displays beneath the signature box, with the font size, placement, and length specified for disclaimers. Dr. Ackerman views the disclaimer and signs for the sample disbursement.
Editing the Disclaimer Text
The content of signature disclaimers varies depending on organization policies and legal requirements. To meet the specific needs of their organizations, administrators can add or modify signature disclaimer text via the Veeva Messages object.
Ensure initial configuration is complete before enabling this functionality.
To add or edit the disclaimer text:
Navigate to the Veeva Messages object.

Select the appropriate Veeva Message:
DISCLAIMER - for call details and sample disbursements
DISCLAIMER_DETAIL_ONLY - for call details only (no samples)
DISCLAIMER_CALL_ACK - for call acknowledgments only (no samples or details are selected for the call)
Edit the Text field on the appropriate Veeva Message to contain the desired disclaimer text.
Viewing the Disclaimer Text
The edited disclaimer text displays below the signature field.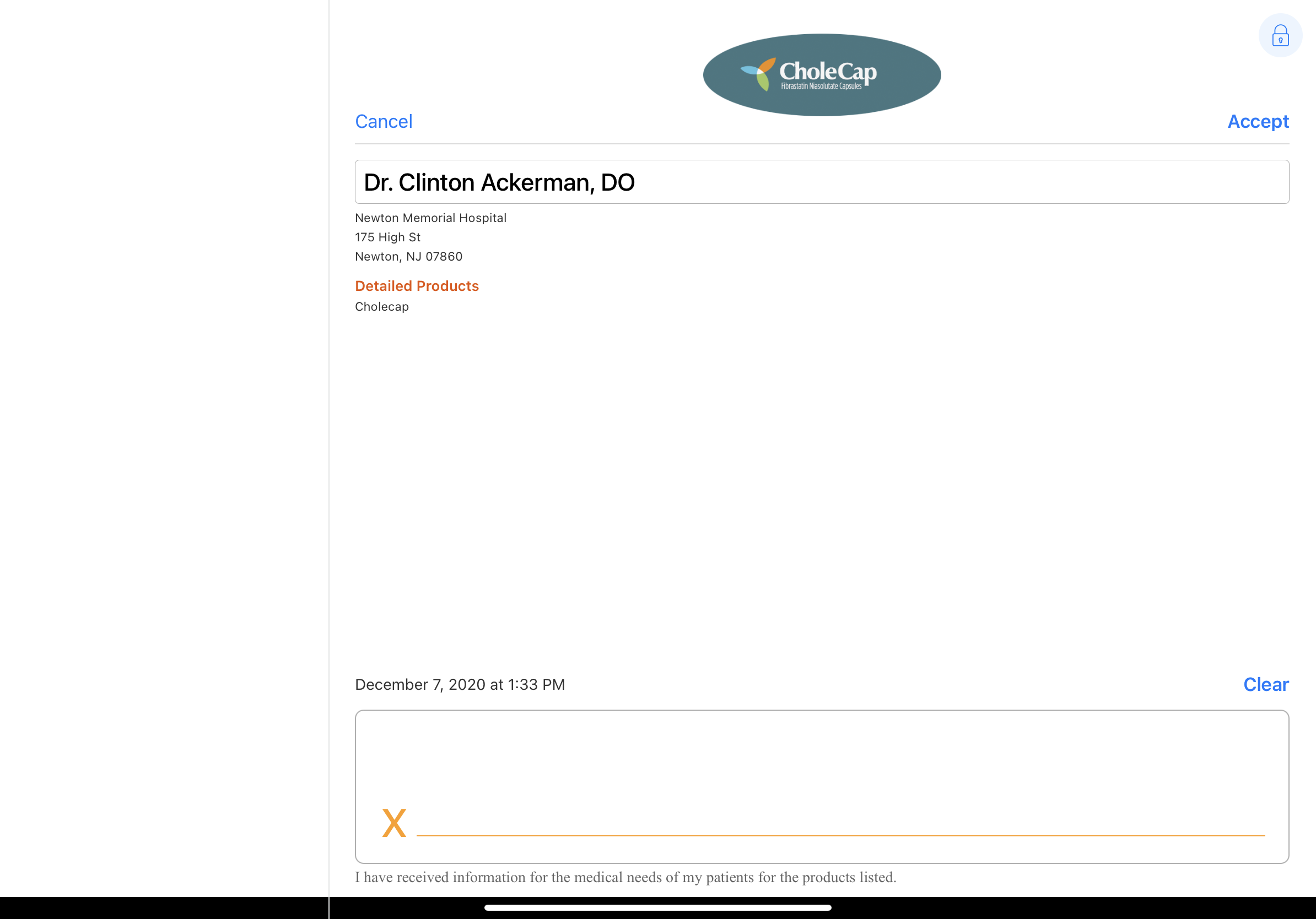 Increasing the Length of the Disclaimer Text Field
By default, the Disclaimer_vod text field is limited to 1000 characters on the Call2_vod object, although disclaimers can be up to 5000 characters in length. When a signature is captured from a call report, the full disclaimer text is copied into the Disclaimer_vod fields on the Call2_vod and Sample_Transaction_vod objects to maintain comprehensive signature records. Customers may increase the length of the Disclaimer_vod field up to 5000 characters across objects, to accommodate longer disclaimer text if required by law or organization policies.
To display a disclaimer over 1000 characters long, increase the length of the Disclaimer_vod field on the following objects to match the length of the Text_vod field on the Message_vod and the Disclaimer_Text_vod on the Signature_Page_vod object:
Call2_vod
Medical_Inquiry_vod
Sample_Transaction_vod
Sample_Order_Transaction_vod
Sample_Order_Transaction_Audit_vod
The maximum text length for these fields is 5000 characters.

Viewing Long Disclaimers
If the disclaimer text does not fit on the signature page, an ellipsis and an information icon are appended to the truncated text. Users can select the information icon to view the full length of the disclaimer text in a popup window.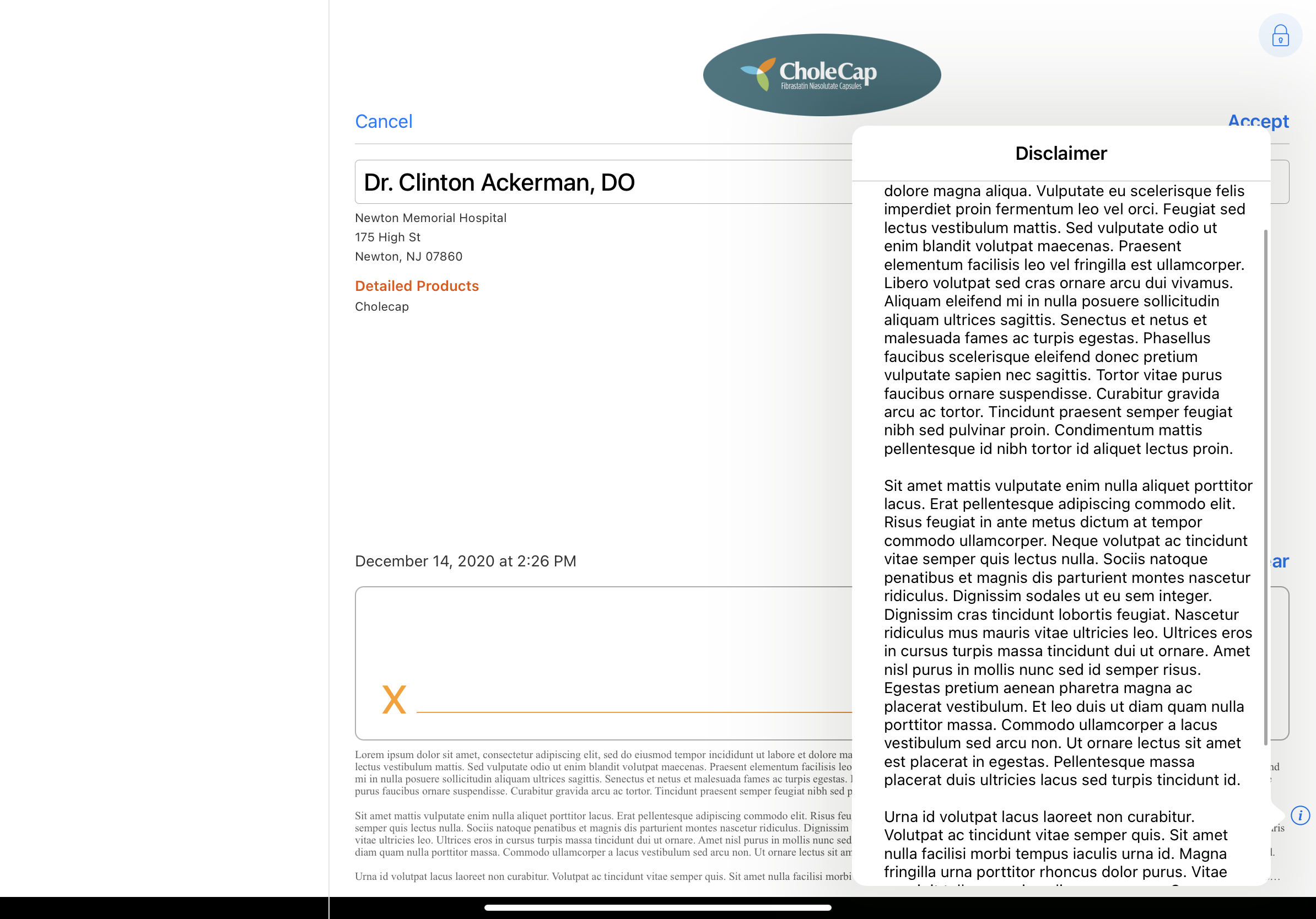 Changing the Disclaimer Placement
Disclaimer text displays after the signature box, by default. However, organization policies or legal requirements may require users to present the disclaimer before the signing account gives a signature. The disclaimer can be configured to display before the signature box, to ensure users meet this requirement when capturing signatures.
To display the disclaimer text before the signature box, select the check box for the Position_Disclaimer_Above_Signature_vod Veeva Setting.